It's safe to say that after a days excursion at
Tongariro
we were ready for some R&R. Luckily we were just around the corner from Taupo...and Rob's birthday.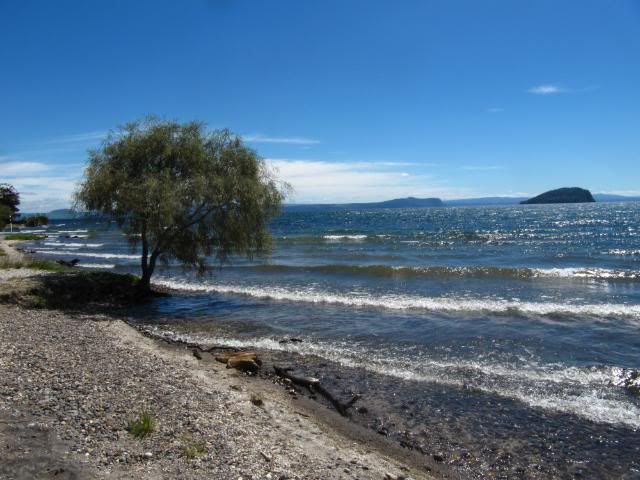 When we arrived, Taupo town was sitting pretty in the sunlight on the north-eastern bank of the largest lake in New Zealand that it shares it's name with. We parked up and wandered around the small grid of roads that make up the town centre, stumbling across some fantastic local artists and a great array of eateries.
Just outside of town we decided to follow signs to the Huka Falls – this is partly because it would no doubt be free and because, I have learnt in the last 10 months (10 months! Christ!), that Rob has something of a fascination with waterfalls. He loves them. Likes the sound especially. Even pathetic little ones that sound more like a broken toilet than a force of nature, which this one was not, but I digress...Whatever the reason – the falls that we rounded the corner and climbed up onto the viewing platform to see were absolutely amazing. About 15m wide and of the kind of clear water that I've only seen in NZ, huge amounts crashed over the falls into a white cauldron of turbulence that was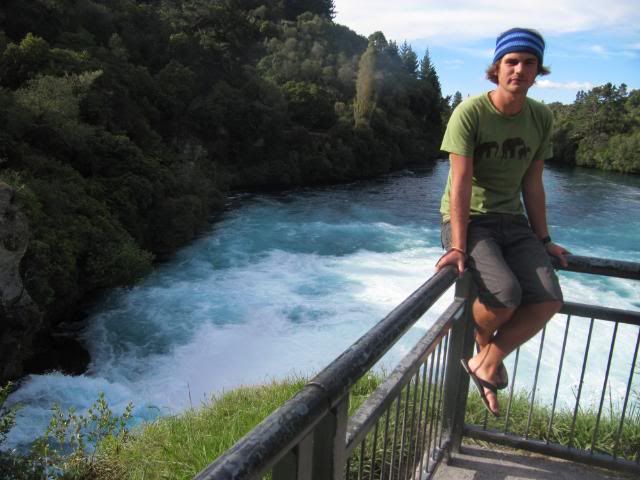 so powerful it actually looked a bit like the river was boiling.
And we were to be spending the night just down stream from here, in a wonderful (magic word) FREE campsite where the current was not so strong and some Germans had made a rope swing that could deposit any willing participant into the surprisingly temperate flow with a thoroughly satisfying splash. I resisted...if tubing in Laos taught me nothing else I came away knowing that my arms are not for supporting the rest of me over bodies of water.
Night fell and the morning brought Rob's coming of age – now I never know if that expression is just for specific landmark ages or any old age – either way, the age Rob came of was 24 and we celebrated with a morning wash in the river. "That's never happened before on my birthday" Well, that's what this trip is all about.
What was to follow was a day of pure indulgence. We stopped for bowls of coffee (sooo much caffeine) and fancy drinks, lunch by the marina, we strolled around the lake as the sun was setting and made our way to the best Indian restaurant we'd found in town for a "Vegetarian Banquet for Two" - and a banquet it was!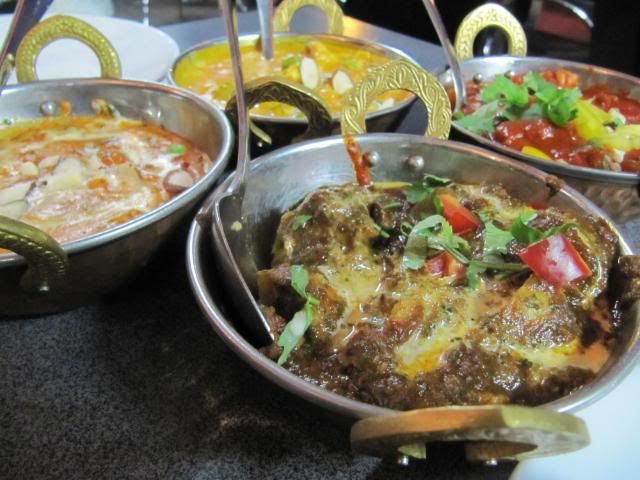 Honestly, I was full after our starters – a plater of Samosas, Onion Bajis and Pakora that came piled up and sizzling to our outdoor table with a great spicy dip. But there was plenty more to come, and we'd asked for them 'hot' (ooh we're seasoned traveller-types aren't we?) - four dishes that were as flavoursome and delicious as they look with rice and naan on the side. We were full and the birthday boy was happy...but we had one more thing left to do in Taupo.
In fact, as we sat satisfied at the Indian Affair restaurant, we didn't even know about it, but back at the campsite we were told about the Hot Springs just upstream where underground geothermal activity gifts an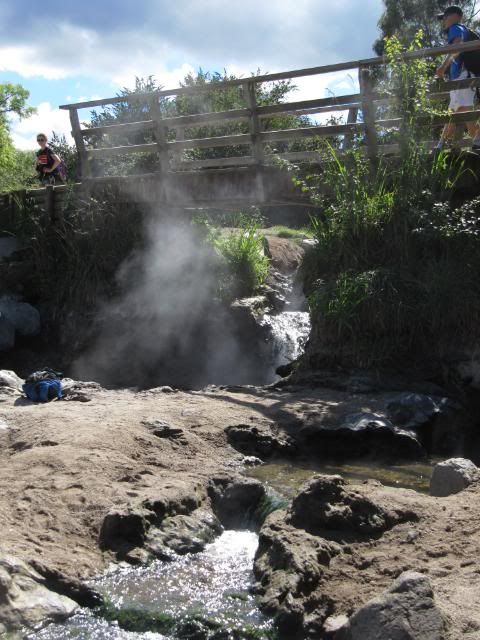 incredibly hot waterfall to the otherwise cool waters. Suddenly the forgiving water we'd been washing in was less surprising. We had to see for ourselves, so in the morning we took ourselves down for a genuinely hotter-than-you-average-bath dip in the very same river. It's really very strange to see steam rising up from behind green hills and then be able to say that the river was "too hot" the closer you got to the waterfall.
Ahh Taupo, you are full of surprises, wonderful surprises...