In 1990 the whole of the South West of New Zealand's South Island was recognised as a World Heritage Site, putting it in an elite with the likes of the Pyramids in Egypt and the Grand Canyon in the US. I'm not sure if it is
the
biggest World Heritage site (feel free to google and report back) but it has to be up there, surely. I mean – it's huge. We have already visited parts of it at Mount Cook and Milford Sounds but now we were joining the highway that winds all the way up to Nelson.
Out first port of call was the pretty little town of Haast; we started the day with a Whitebait Pattie for Rob (local speciality) and a visit to another very well done Visitor Centre. It seemed we had landed, all quite deliberately of course, at a great place for some walks on a day when the sun was shining – which is actually pretty rare in these parts.
So we followed the coast up, stopping at picturesque trails,
bays, river mouths, forests and even a "swamp" where the high levels of Iron in the rocks had rusted and turned the water the colour of ale; we haven't fiddled with the settings on these photo...it really is that colour.
It was all going rather well until it came to settling down for the night and the lovely lake-side spot we'd found turned out to be swarming, and by swarming I mean literally infested, with sand flies. It was turning into a beautiful sunny evening but there we were with trousers tucked into socks, long sleeves, scarfs, constant re-application of repellent and we were still twitching and having to wave our arms around like crazy folk to try and defend ourselves. It was awful; I'm not sure if I got my moan on about them in the Milford Sounds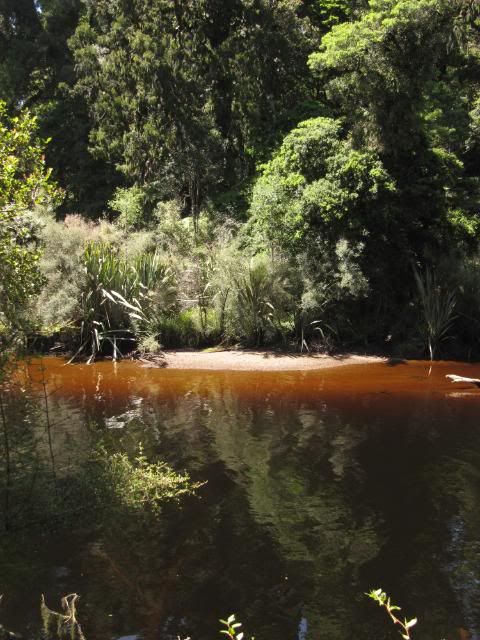 post (just checked...I didn't) but if we thought they were bad then (and we did) this was something else.We set up a mosquito net over Emilio's door but it was soon coated in little black bodies, baying for our blood – and when they do bite, they do draw blood. Not the best night's sleep ever.
When we got up in the morning and let about 100 new hungry mosquitoes and twice as many sand flies into poor Emilio, it was time to leave. We were tired, bitten and it was raining with no sign of stopping. We drove to Fox Glacier and checked into a hostel where we enjoyed such luxuries as hot showers, a kettle (AKA constant source of tea for me), comfortable sofas, electricity and the real luxury of a sauna. It was R&R o'clock and as the continued to pour outside we knew it was the right decision.
Only a few pics for this one...and they are here