Travelling north of Queenstown on the usual tourist trail – or highway 8 as the signposts would have you believe it's called – you could, and I believe many travellers
would
– make it to Wanaka within a day. This sort of time:distance ratio is not one that regular readers of this humble blog will know that we like to endorse. It's just
too fast.
And I don't mean fast in an Emilio-is-over-20-years-old-and-a-1.9 litre-engine-simply-wouldn't-be-capable-of-it kind of way, no...zipping from one big tourist attraction to the next just means you miss out on a lot of stuff.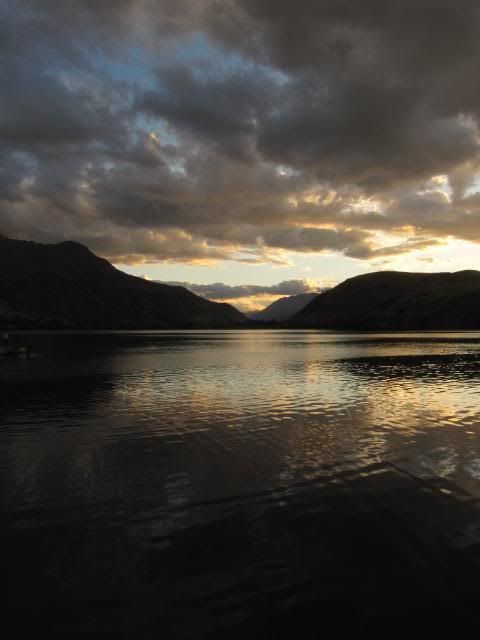 Beautiful stuff. Interesting stuff. And in the case of Lake Hayes, the first of the three places that I will try shamelessly to promote to you here, free stuff. Ah free, the magic word...free both in the sense that we could wander where we liked and free in the sense that when we ignored the sign that said 'no camping' we were duly ignored by any enforcing body and left to camp, for free, for two nights by this beautiful lake.
We decided to stop by the lake because it had a 2-3 hour walk around it that had caught our eye in Queenstown – in fact the walk isn't all that, it does not offer any better views of the lake than you could get from the little shaded alcove you parked up in when you arrived and there is little-to-no shade on the path, making it a pretty sweaty affair. Luckily a thermocline makes the water a cool but not limb-loosingly freezing place to take a dip. Which is perfect after two and a half hours of intense perspiration.
It also makes for a pretty fun way to wash in the morning; a quick game of one-knee-two-knee with the soap to get used to the cold and it was like washing in our own massive and almost private (there were some confused looking ducks present) bath. Otherwise, apart from book-reading, clothe-washing and dinner-cooking not much else is to be achieved at Lake Hayes. It's glorious.
When we finally managed to drag ourselves away from the lake (incoming clouds helped –
had it stayed sunny, I fear that we may never have left) we took the short 6km drive to Arrowtown. Once a hub of the 1860's goldrush, the town is now a tiny living homage to the glorious era gone by. All the shops on the small high street are in the traditional style and there is a homage to the Chinese settlers that were once so badly treated in the area.
Onwards to Cromwell, a larger town that also pays tribute to a time gone by. Unfortunately in Cromwell the "Historical Precinct" is tucked away on the banks of the river and though it has been lovingly restored, it could be - and maybe often is - easily missed.

We had hoped that there would be more to see and do in Cromwell but alas there was not and so we spend the night just outside of town by Lake Dunstan; we shall make it to Wanaka tomorrow I expect, 3 days after leaving Queenstown...yes, that's how we like to do things here.