Apologies for the delay in posting; for 5 days now we've been in Vang Vieng; where the internet is
outrageously
expensive and the booze is far far too cheap.
It is, admittedly, not the culture capital of Laos but there is much partying to be done so we figured it'd be rude not to get stuck in...the name of the game here is
tubing
and the rules are as follows;
1) Get a vest with the word 'tubing' printed on it at least twice
2) Take this vest and a
tube -
an inflated inner-tyre (massive rubber ring) - north up the Mekong River to the aptly-named 'Bar 1'
3) Receive your first free Lao Lao whiskey shot of the day (note with shock that there are wasps in the bottle from which you are drinking....this will cease to matter later on)
4) Buy your first bucket / beer of the day
5) Mingle on the decking in the sunshine with some newly acquired friends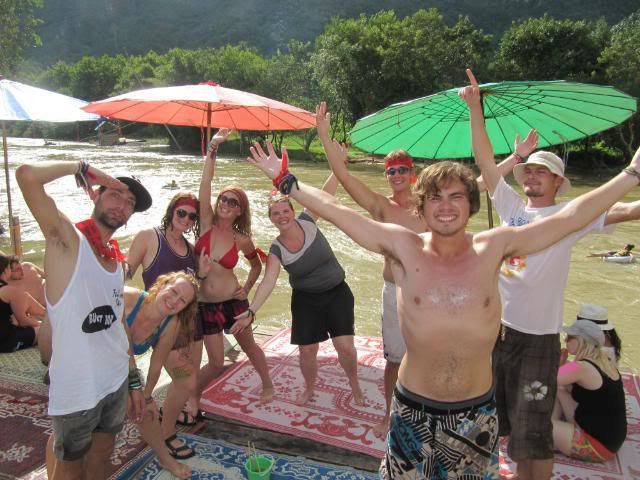 6) Slide down a flume with your tube (drink is optional here - but recommended) into the river and sail onto the equally-inspired-named 'Bar 2'
7) Receive another free Lao Lao whiskey shot...or three
8) Swing off a trapeze into the river, get hauled back in by grabbing onto a rope thrown out to you
9) Drink more, dance more vigorously
10) Sitting in your tube, float down to...yes...you've guessed it 'Bar 3'
11) Receive more free shots, better still; just cut the sting off one of the afore mentioned wasps and eat the wasp [equivalent to 2 buckets of alcohol, so we hear...]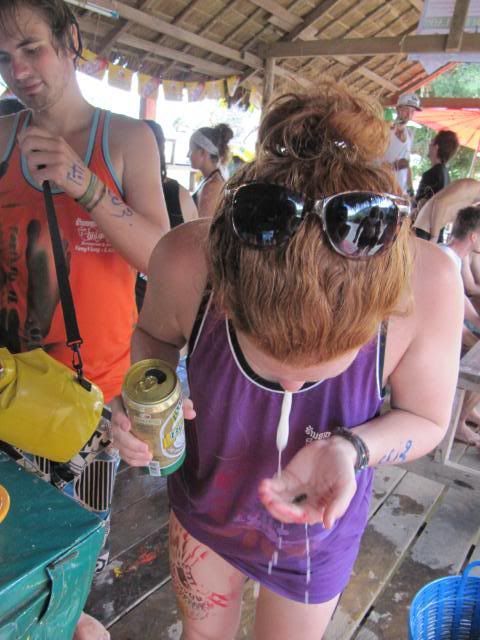 12) Play drinking games with your new best friends
13) Drink more, jump of more trapezes and dance with less and less regard for the rhythm of the music
14) Locate your tube and set sail to 'Bar 4'
15) Eagerly receive another free shot of Lao Lao...
16) You get the picture
...
Try to make it back to the finish point (Bar 10) by 6pm to return your tube and continue the party well into the night
That's right dear readers; tubing is a day time activity but the fun does not stop there! When we weren't too hungover to party (roughly every other day) we were out and about meeting all sorts of wonderful people - Rob even bumped into a course mate from uni! - and dancing to what could have easily been a Saturday night in Bournemouth.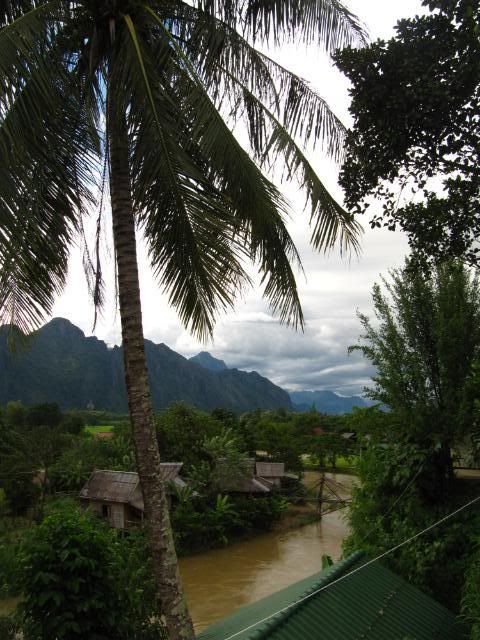 We were really lucky with the weather too and had glorious sunshine and blue skies all day, every day. Team 365 is happy to have left with everything (if not our livers) intact* and to have avoided the dreaded pink eye (conjunctivitis) which spreads through backpackers here faster than the Mekong does through the town.
All in all - it was awesome; everyone should tube!
*due to the responsible and safety-conscious matter in which we tubed, Mums, this was not a surprise