If there is more than one thing to do Hanmer Springs, 365 does not know about it. I don't even
want
to know about it if I'm honest...because the one and only thing
that we did do in 'the Han (yup, pretty sure no-one else is calling it that) was more than enough for one tiny town.
That thing, as the name would suggest, is Spring-based. But we're not talking some pathetic little trickle of a spring somewhere in the distance that was once of some historical importance blah blah blah oh no! We're talking full-on outdoor water-park type complex with a spa, flumes, pools for children, pool for adults, pools where the kind of people that bring goggles to an outdoor pool could swim lengths, naturally heated sulphur pools, natural water pools for those not so keen on the smell of eggs, pools that were really jacuzzis, pools surrounded by sculpted rocks and greenery...I could go on; and all inside lovely grounds with benches and deckchairs and no silly rules that stopped people like us bringing in breakfast (pictured) and lunch and setting up camp for the day.
Basically, we were in holiday-making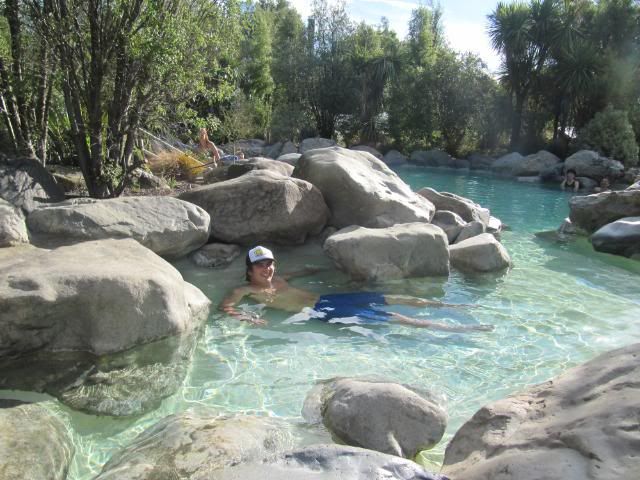 heaven...and all for a mere 18NZD (not even a tenner)
So all we did in Hanmer Springs – and this is an itinerary that I would recommend to anyone – is go to Hanmer Springs Thermal Pools until they close at 9PM and then get chips from The Log Cabin over the road. No-one could accuse this day of being action-filled but my was it wonderful.