After a week or so of mincing around a city it felt good to be on the road again – not least because the road that we were on followed the spectacular west coast of the North Island and each curve gave way to a bay of the clearest blue sea crashing against jagged cream-coloured rocks interrupted only by small towns until the sky was turning sunset pink and it was time to stop for the night.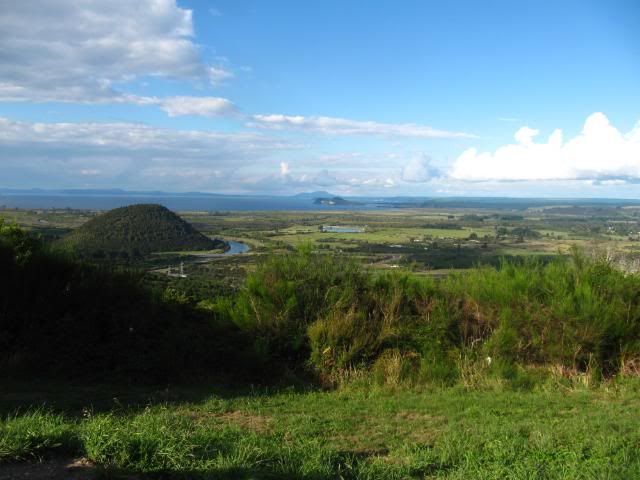 We were shooting for the Tongariro National Park and, though we didn't know it when we found a lovely shady spot by a quiet river, we actually still had a fair way to go. This was only made clear to us when – after getting up at 7AM (normal, I know, for people like you with real jobs and real lives but not for us) – a road sign confirmed we still at 200km to the National Park and even then, we had to get to the north of the park because we'd decided today was the day to do the Tongariro Alpine Crossing; a 19km-long one-way mountain track frequently voted the best walk in all of NZ.
Now the problem with arriving at the Information Centre after a longish drive and a leisurely breakfast was that the shuttle bus that drops you off at the start, fresh-faced and raring to go between 6&9AM, and picks you up, a sweating and broken mess at some unimaginable point in the afternoon was that at 11AM (our arrival time) – we'd gone and missed it.
Not to worry, the friendly DOC man told us, at this late hour we could drive to the start, walk 3.5 hours to the big attractions, turn back on ourselves and make it back before dark. A 7-hour round trip to get closer to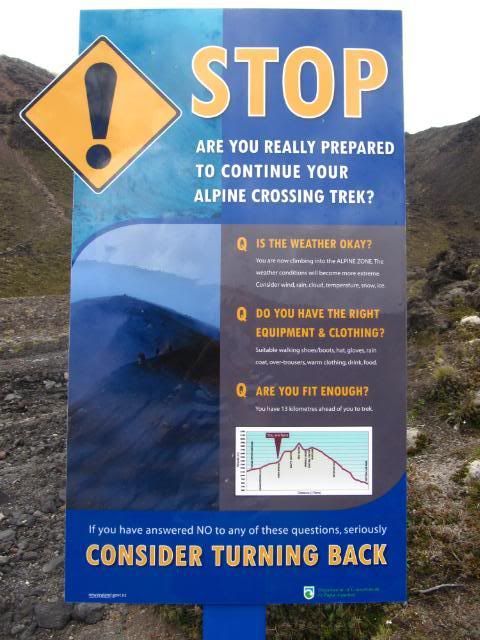 MOUNT DOOM? Yes please! I wouldn't say I was a massive Lord of The Rings fan but yes, this is where all scenes involving Mount Doom (real name; Mount Ngauruhoe) were filmed and besides, anywhere with 'doom' in the title has got to be worth a look, right?
Right. Off we set for an hour of joyously flat walking along orange-rocked streams until we reached the bottom of the first incline and this sign (pictured) that sternly warned us to "Consider turning back" - we did not. And then it got really steep. And after a further hour of upward slopes and seemingly-endless wooden steps I, at least, most definitely did.
At just under 1600m above sea level the climb was over (so I thought) and we paused for lunch at a graciously flat rocky platform in the shadow of Mount Doom and watched as clouds clung to it's summit before being whisked away and replaced once more. It really was a magnificent sight,
a breath-taking way to catch ones breath, for sure.
But we weren't just here for the doomster – we'd been promised Emerald Lakes and so on we walked. As before the way was initially flat but soon, as is usually the way with mountain ranges it seems, the upward slopes weren't far away and this time it was more like climbing a mountain-sized sand dune than a never-ending step-machine. The path was dotted with sharp rocks and increasingly frequent calls for a quick break from me. This part, I will admit, I did not enjoy.
But this story does have a happy ending; climbing up to the geothermal peak above the lakes does give the weary walker the best way to view red volcanic rock clash with beige, steaming mountains. Lakes of deep green sit calm and beautiful below you and suddenly it becomes all worthwhile (you can see them just behind our sweaty faces, below). They say there's no gain without pain, well here that's certainly true; it's a lot of pain but boy is there a lot of gain too.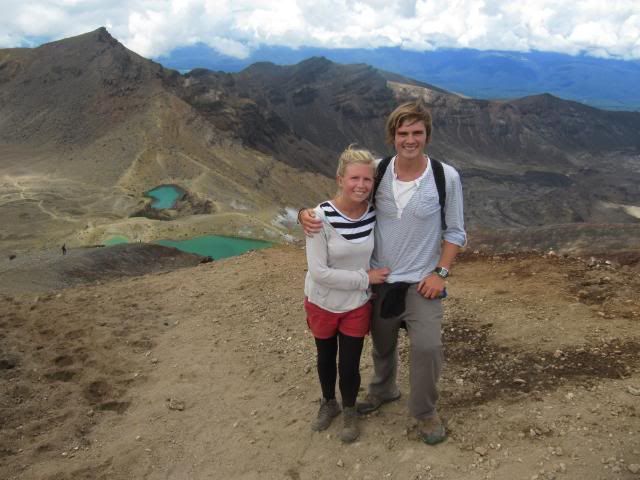 And then there is the long walk home...oh it's certainly better than the uphill struggle there, I'll give it that but it is pretty dull. We arrived back at Emilio almost 6 hours after leaving him with shaking legs, achy knees and some incredible photographs.
I'd probably only recommend this walk to someone who says they 'enjoy keeping fit' – but you have to go there to find out what you limits are, and if my limit is a mountain called 'Doom', then I'm fine with that.