Team 365 arrived in Bangkok at just before 6 in the morning and after waking and gathering ourselves we made it to a taxi and, slightly worried about the unsocial hour and the likelihood of hostels being open, we were deposited on Koh San Road where bars where blaring music, street venders were sellin
g pad thai and people where everywhere. We could have

started

a night out if we had been so inclined. Perhaps unsurprisingly, we weren't.
We had, however, managed to arrive on a Sunday which meant that we were just in time for the famous Chatuchak Weekend Market; our guidebook advised early arrival (that suited us) and promised sweat, tears, extreme claustrophobia and more bargains on more items than anyone could ever hope for. Since our hostel room was not available to us until midday we decided to check it out.
What we found was a pleasant out-of-town market that was just getting into the swing of things, friendly vendors, a systematic (if vast) expanse of stalls and a little rain. We were happy, but we were also desperate to sleep - so we headed back. The rest of the day was spent snoozing and investing in the afore-mentioned pad thais...tomorrow it would be all action.
Bangkok is
full,
and I mean
full
, of wonderful things - alot of things are not exactly as they seem (more on that later), some of them are exactly as they seem, and some of them are even better than they seem. The sky-train falls firmly into the last of these crudely-constructed pigeonholes. A trip across town that once upon a time took over 4 hours thanks to legendary traffic congestion can now be completed in beautifully air-conditioned carriages in 15 minutes, for 35 Baht (not even 1GBP)
We took this glorious mode of transport to China Town, of course, because yes we
did
come all the way to Thailand to get a better taste of China. The tiny alleys packed with market stalls were an absolute pleasure to get completely lost in.
After a bit of searching we did manage to locate
Old Siam Plaza
; home to a vast array of confectionery that falls into the 'wonderful things that are not as they seem' category. Here we ate shiny sweets that tasted sweet,were made from savory corn (we think), that were made to look like spicy chilis...it was bizarre. It was wonderful. It was Bangkok all over.
Our next mode of transport was a boat - actually two boats because the first time we got it in the wrong direction and, much like a normal bus service, we had to get off at the next stop and go the other way. At the risk of sounding like a total transport geek (if the sheer joy on my face in the pic above wasn't enough) - what a ridiculously enjoyable way to travel around a city notorious for awful transit! There was plenty of whistling and crew leaping on and off that every stop (see below). It was quick and it was cheap. It bore close resemblance to what we'd heard about other services available in Bangkok.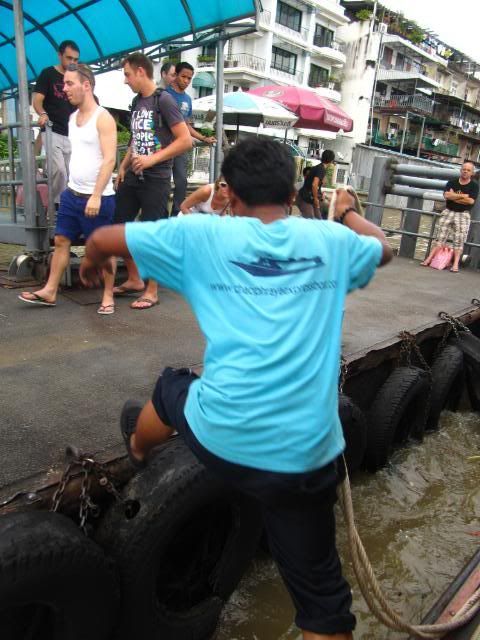 Then we enjoyed a good session of intense window-shopping in one of the uber-super-massive-everything-all-in-one-place malls; the one we were in had 5 floors of shops, restaurants, massage parlous, a marine park (bored of spending? fancy swimming with sharks?) and a hotel - and this is just what we saw before we eventually found the exit. Anything and everything is available to you in these malls - for the right price. They are like (not-so) mini versions of Bangkok as a whole.
That evening we had arranged to meet up with our good friend Steve (of previous 365 fame) and a Pai-acquired friend, Ryan, who was studying in Bangkok and recommended a bar on Koh San Road. Brick Bar, Ryan told us, usually had an awesome ska band playing. When we entered Brick Bar we were hit by a wave of funking fantastic tunes - the band were
incredible
. The place was packed with locals (not usually the case on the Koh San) and everyone was getting on down. Thailand was turning into quite the live-music connoisseur.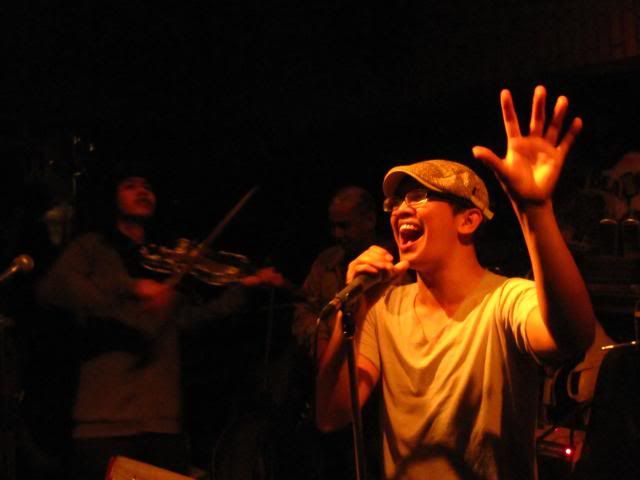 But the musical fun could not go on forever and we had one more Bangkok-based cliche to complete; that's right readers, after much popping sounds from tuk tuk drivers we made our way to a Ping Pong show. It was
exactly
as it seems; various items were lit, extinguished and removed from bored-looking Thai girls genitalia and Rob is now the proud owner of a vagina-written 'nice to see Rob' note. It had to be done. It was 5 in the morning and we had reached the epitome of Bangkok.
And on the third day, 365 was pleased with what it had done and so it rested.
Bangkok was a whirlwind, a sensory overload. It was amazing. I'd recommend it to anyone.