Never had the saying about the best laid plans ever seemed more apt. Team 365 found itself with time to spare on Sarah's 2-week holiday since the darned cyclone had swept across northern Malaysia and Thailand, churning up the sea as it went, and rendered the planned scuba-diving excursion impossible. Never mind, we thought - let's go to Singapore. As you do.
We arrived through clean, organised and efficient customs, boarded the clean, organised and efficient SMRT tram system and found our clean and cosy hostel. We were, indeed, in Singapore.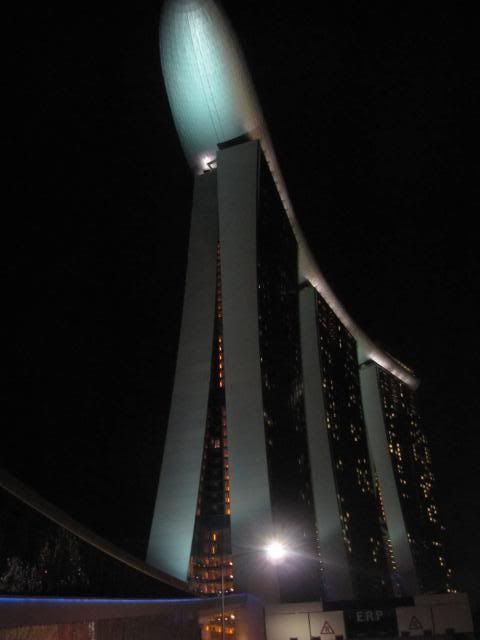 After a quick shower and a change Team 365 was out again and on a trip to one of Singapore's newest attractions. In fact, the Marina Bay Sands hasn't completely finished being built yet - but one cannot be disappointed with the huge casino, numerous restaurants, museums, shopping malls and three 56-storey hotels that already exists on the 20-hectare plot of land right on Singapore's coast. Not to mentions the 340m-long
Sky Park
that sits on top of the 3 hotel towers and actually over-hangs the edge of
Tower 1
by 67m; officially the worlds largest cantilevered platform (pictured above). I could go on; I have (as the long-suffering Rob and Sarah will no doubt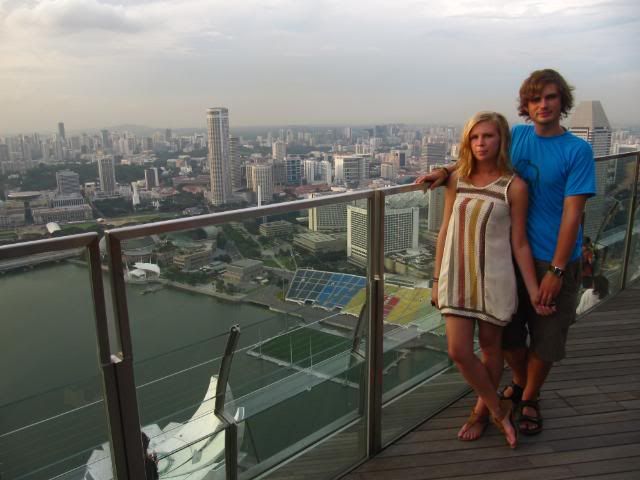 happily confirm) become slightly more than obsessed with this structure since watching a program on it's construction.
So I was in my element; at the top of the building of my dreams while the sun set over a city/country I was already falling in love with. What could have
possibly
made this any better? Ah yes! Cocktails in one of the Marina Bay Sands numerous bars. Unfortunately we had to return to ground level to sip our Singapore Slings (only hotel guests can use the roof-top restaurant and pool...oh! the pool!) What a way to begin our time here!
The next day we were up bright and
early and spent the day wandering around different parts of town. We visited Chinatown, Little India and the Muslim quarter, Kampong Cham which were all beautiful but notably more...well, how to describe this? They were just more
Singaporean
than other Chinatown's or Little India's that we'd previously seen. Everything just seemed like it had been more thought out; food stalls still sold cheap and local delicacies but the seating was under-cover (no more crouching on the curb or hiding under shop awnings) and there were staff who cleared the tables, fans were positioned to keep diners cool, one drink stand served drinks to all diners regardless of where they bought their food or sat. It was just
so un-
Indian.
Mosques and temples were
beautifully
maintained, sculptures gleamed on street corners where graffiti or drunks may have gathered, locals strolled past in designer sunglasses and sparkling flip flops. And every time you looked up you saw the tops of soaring skyscrapers along the horizon; a perfect synergy between old and new, traditional and modern. It was awe-inspiring.
Singapore likes to be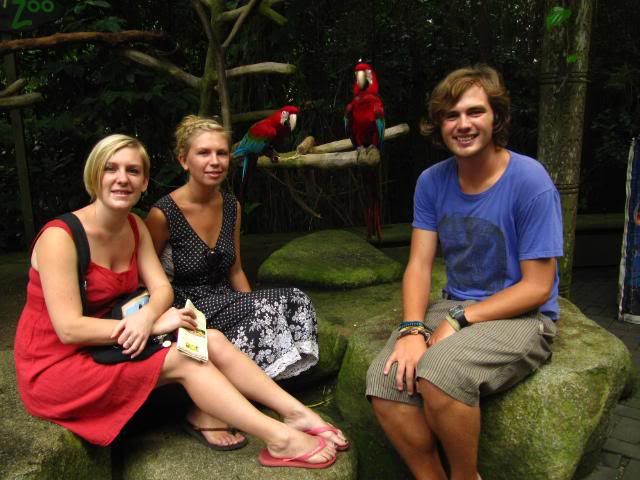 the best. It's a country that likes to do things
first,
or be the
biggest
, or the
newest
and so we went to see what a country that is also slightly obsessed with cleanliness (eating or drinking on the rail system incurs a $5000 fine) would do with a load of exotic animals. And the results were incredible. Singapore Zoo is simply the most wonderfully designed space; animals are kept in enclosures - not cages - and regular
token feedings
and shows meant that we could easily see almost all of the animals up close and personal. There are reams and reams of photos that you can browse through
here
- but here's us hanging out with some parrots to get you started...
We literally spent all day at the Zoo. We could have stayed on longer to do the
Night Safari
(another new edition to Singapore's bulging entertainment offerings) but we were meeting up with a old school friend of Sarah's who lives here. We met Rosemary at her beautiful apartment near China Town and headed out for dinner with a few of her housemates in the CBD where a road is blocked off each night and hawker stalls serve every conceivable type of food and drink to groups of smartly dressed colleagues, families and incredibly stylish teenagers. It was a fantastic evening.
But that was unfortunately Sarah's last night with us and early the next morning we bid a sleepy and sad farewell to her. Sarah's Singaporean adventure was over but, it seems, ours had only really just began.