The final leg of the Southern Scenic Route was upon us. We were creeping up the western-most road in the south of the South Island and by the time a day-long downpour abated we were at Te Anau; a bustling town that serves as a stock-up-on-petrol-and-food point and gateway to the great Fiordland Mountains.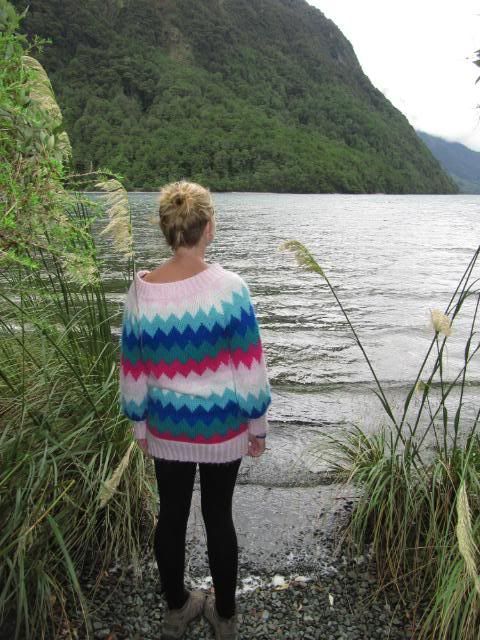 The Fiordland National Park rolls in undulating mountain ranges, lakes, rivers and glaciers for around 12,500km2 – most of which is inaccessible unless you are very brave, very stupid or Peter Jackson; many of Frodo's infamous adventures where filmed around these ends, you know. But we weren't delving into Middle Earth – we were staying pretty close to civilisation along the winding 120km-or-so road to Milford Sounds, and we were taking our sweet time about it.
All along the road are DOC campsites and lovely clearly-marked walking tracks. The walks seemed to fall into two main categories; under and hour strolls that anyone [grandparents/children/500 Japanese tourists with 499 digital SLRs and 1 16-inch video camera] could do or multi-day treks to far-off destinations for mentalists that actually like walking up hills carrying rucksacks. I am happy to report a full sense of fulfilment and some fantastic photos are the result of completing all of the former and none of the latter.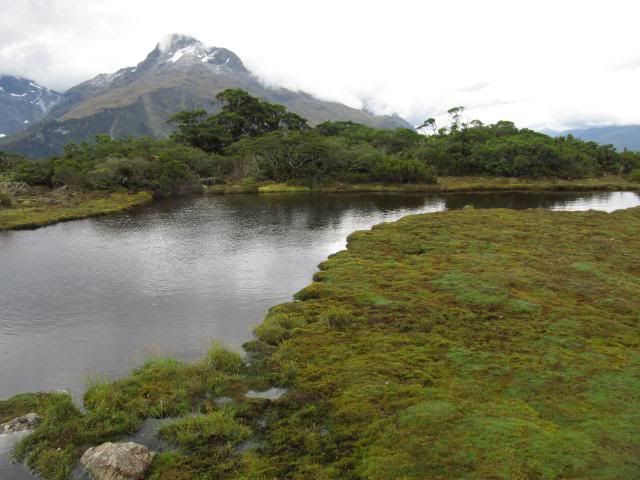 There is one exception to this rule though; a 3-hour walk up to Key Summit [left] At about 920m above sea level it's not by any means the most challenging walk we've done on this trip but it was rewarding all the same and, though it was a little cloudy, the views from the top were excellent. There was even a self-guided alpine tour around the summit highlighting some of the flora and fauna and explaining how the mountains were formed. God I love the DOC (department for conservation.)
We spent our nights camping by crystal-clear streams and our days walking over swingbridges and past waterfalls until we reached Milford itself. As one of only two Sounds that are accessible to the public (the other, aptly named, Doubtful Sounds is reachable only by boat, then bus, then boat via about 300NZD) it is a truly unique experience.
Lake Milford [below] lies calmly surrounded by a cascading waterfall, curling clouds and endless outlines of almighty mountains.
For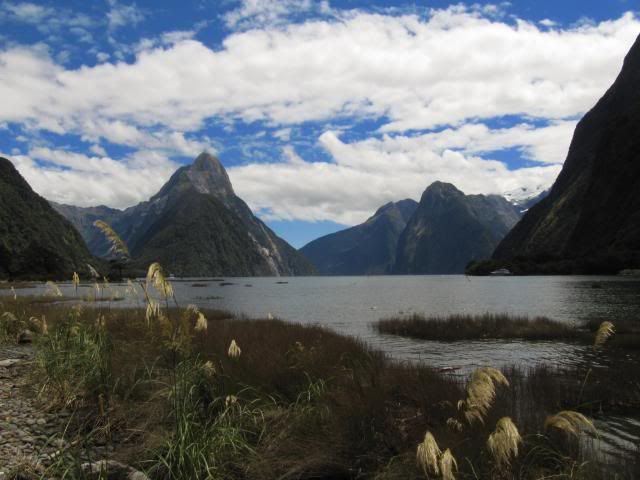 me the journey itself was the best thing about getting to remote Milford Sounds, and almost 250km might sound like a long way to drive to look at some old lake; but it is the end of the Southern Scenic Route and it is quite the grand finale.