We loved Chaing Mai but after a few days mincing around the city we thought it was probably time to get out of town and - without opting for another jungle trek (too soon) - we of course decided to go by two wheels.
On leaving our lovely and super-friendly guesthouse, Diva, the owner broke the ice with a joke about me looking like I was having a baby after last night's cooking course and after much stomach-patting we met a German guy who heard we were planning to do a day of biking and asked to come along. This German guy turned out to be Lukas; a wonderful bare-footed man, all-round hero and soon-to-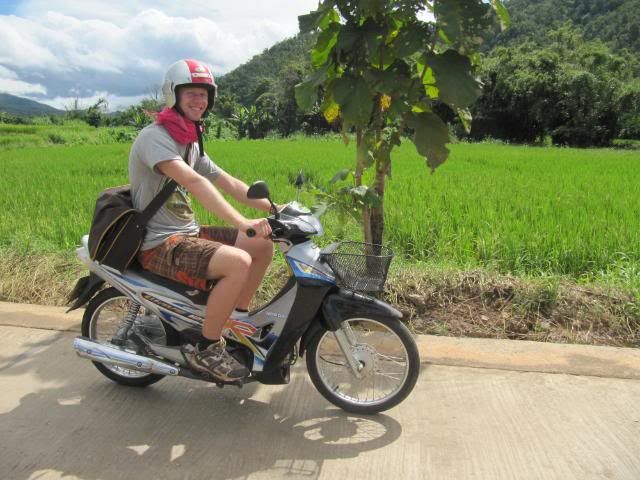 be adopted 365er.
Today we were doing 'The Samoeng Loop'; around 100km of breath-taking scenery, small villages, alusive waterfalls and - luckily - at least one mechanic. We had been going all of 30 minutes when, on easily some of the smoothest tarmac we'd seen in SE Asia, Lukas' back tyre got a puncture and, in an instant, was as flat as a pancake. A local guy informed us a mechanic was just around the corner and after a squeky 5 minute drive at 2mph a mechanic had a new inner tube fitted in no time at all.
We were off again! We climbed up to a beautiful view-point and stopped for lunch in Samoeng - which we estimated to be about half way round the loop. We knew the second half would be higher and even more winding, but we didn't expect to be literally driving through clouds. Watching them roll in over the green mountains and into blue skies was really something special.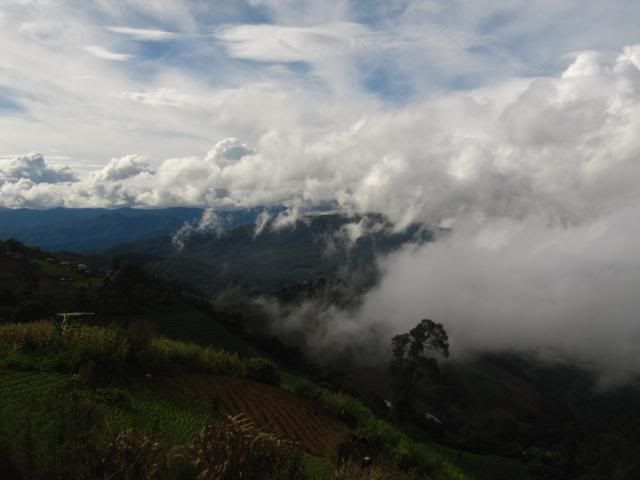 We'd decided to do the loop with a bit of an added extension to avoid all the 'big' tourist attractions, by which I mean monkey shows, snake shows, elephant dance show - honestly, it was like Animal Cruelty Avenue; we were not up for it. But in SE Asia when you take the scenic route you really do take the scenic route and, though we managed to drive straight past most of the waterfalls we were looking for, really the driving was the main attraction.
We watched the sun set over a beautiful lake and drove home in the dark to the infamous Saturday Night market in Chiang Mai; by then we'd persuaded Lukas to some north with us to Pai and there was plenty more biking to be done.