For the last three days I have been staying at the Elephant Lodge, just outside Luang Prubang, learning what it is to be a mahout. I have succesfully learnt that a mahout is someone who keeps, trains and looks after elephants, and my three days mostly consisted of walking, washing and feeding elephants. Sounds like a short list to fill three days out with, but I had an unforgetable time and wouldn't hesitate to recommend it to anyone.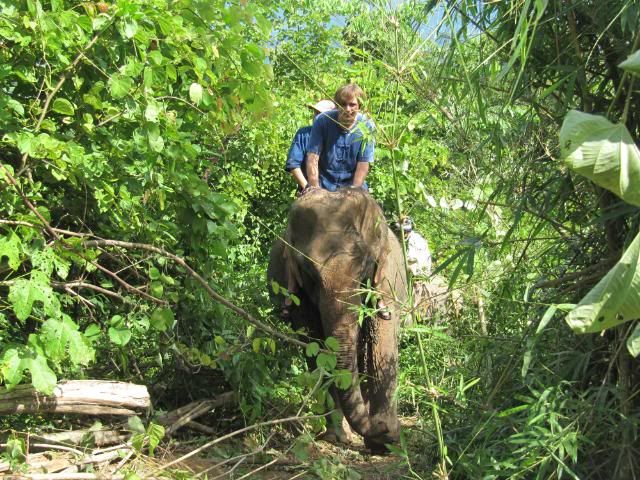 On my first day I spent a short amount of time learning how to 'drive' an elephant with my other trainee-mahouts. We got the chance to put into practice what we had just learnt almost instantly by taking the elephants out for a walk. We yelled (or at least not whispered) commands - walk, turn left, turn right, spray water etc - to our elephant from atop their neck with mixed results.
My elephant was named Thong Khun, which loosely translates into diamond or precious stone, but was known as TK as there was no way I could properly pronounce it.
Riding the elephants through thick jungle was incredible, and although TK did show some response to the commands I gave, I felt pretty sure that she knew the route well enough to not have to rely on me. Probably for the best.
Our walk was nearly constantly interrupted by at least one elephant wanting to snack on a tasty looking tree or two before we moved on. Considering that the mahouts give each elephant 250kg of food a day, and that elephants spend most of the night eating more food on top of that (they only sleep 2-3 hours a night) it did seem extravagant. Still, it added even more excitement to the journey and I was surprised and amazed to see how dexterous elephants are. They're able to snap trees and bamboo into bite sized chunks with their feet and trunk, and can strip a branch of its leaves and bark.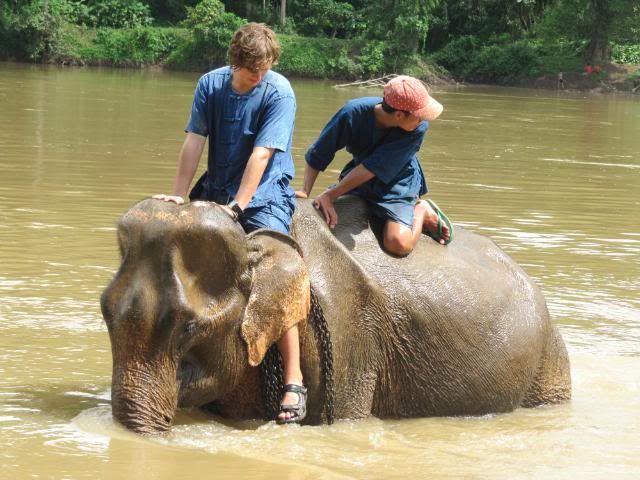 As well as walking and feeding the elephants twice a day, every morning the elephants were collected from where they sleep - about 2km from the lodge in dense jungle with plenty of food and space - and taken down to the river to be washed; which is probably even more fun than the pictures would have you believe - check them out
here
.
It was altogether an amazing experience and we're all looking forward for more elephant based adventures in northern Thailand.