Is there a better way to relieve almost 48 hours of sitting in various modes of transport than to sign up to an all-action 3-day trek into the jungle surrounding Chiang Mai? No, we didn't think so either so we signed up (managing to wangle a free massage on return) and set off!
The morning of the first day was filled with all the usual sorts of crap that no-one really wants to do on a tour but always get thrown in so that the tour operator can display a long list of bullet points and charge that little bit more
and
make their mate down at the market an easy bob or two. We visited a highly average Orchid & Butterfly Farm then went to a local market under the guise of buying water and insect repellent. It was a good chance to get to know our companions for the trip; a lovely selection of Americans, a kiwi, a Swiss guy and our joke-loving tour guide Tonny.
Then we drove into the
jungle, stopped for lunch and the
real
trekking began! And the scenery here really is something else, by this time the sun was high in the sky and as is evident in the pictures there was much sweating to be done all round - this became something of a hallmark of the trip. We stopped to eat local fruit that Tonny picked on the way (delicious) and eat chilis that he told us were "Thai sweet chilis" - please see Rob's face (left) for evidence of their non-sweetness.
On our first night we spent the night in the village of a local tribe that are known as 'long-necks' because the women of the tribe, beginning at 5 years old, add a metal ring around their necks every 3 years (we think) for as long as they live. The result is that by adulthood their necks, now completely covered by rings, are
much
longer than your average neck.
I got the feeling that the 'village' was a bit of a tourist spot and the tribal people that were there probably didn't live their full-time but it was interesting to get a taste of the tradition and we whiled away the evening around a bonfire.
Rising early on the second morning we took again to the jungle paths to reach the centre of the all-action part of the trip. Rob, Jeff and I had opted to fly through the jungle on 19 zip-wires which was so so much fun! It took about an hour to get all the way round the wires and vertical drops and ended in a magnificent swoop over the river.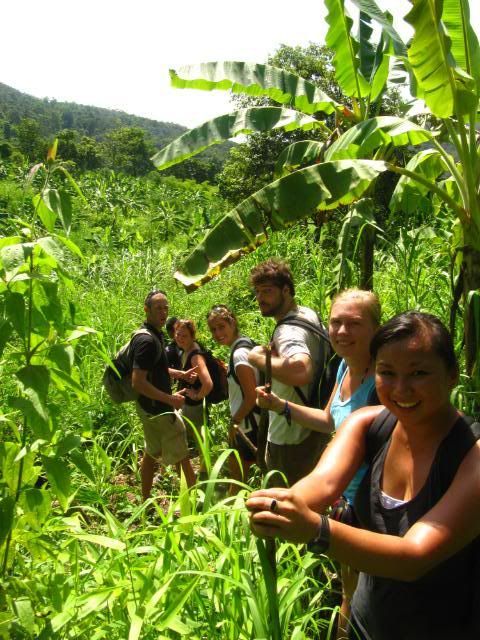 Then, from the same spot, we were able to enjoy a short elephant ride. Obviously
Rob is already semi-professional in this department
but for me it was my first time on an elephant and felt really lucky to be able to sit on her neck, as well as in the carriage on her back.
After a hearty lunch we were taken for a relaxing trip down the same river we'd just done our best superman impressions over on bamboo rafts, which was rather pleasant. But the relaxing was not to continue and in the afternoon we undertook what was the hardest bit of trekking in the trip. It was hard but so rewarding; the views were spectacular and it made scrambling up and down steep slopes and thick greenery more than worth it.
On this evening we camped in a small village and after bathing in the nearby waterfall (really, there was no shower) we again settled in for a night of great food, star-gazing and games around the campfire.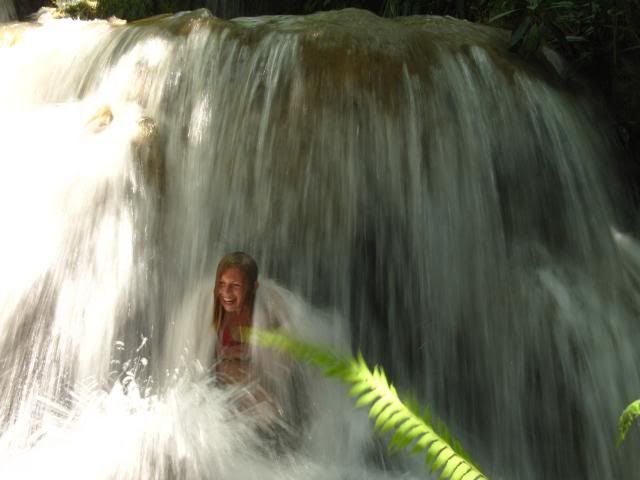 All too soon it was day 3 and our final day was a wet one! We trekked to a beautiful waterfall that cascaded into various small pools that were perfect for swimming in and you could even sit behind the largest waterfall in an air pocket, which was really fun - you can see me emerging in the most graceful way possible, above.
Then we went white water rafting! For obvious reasons the camera did not join us on this part of the adventure but it was brilliant. Paddling full speed into the rapids, hanging on while getting bounced about and soaking wet - we were even able to jump out of our raft in quiet spots. It was just the getting back in that was challenging. Prepare to read again of Team 365 flying down rapids in a dingy; we're officially hooked.
And that was it! Our 3-day jaunt was over; we were bitten, scratched, sweaty and soaking wet when we departed again for Chiang Mai. Here we washed, got a foot massage (looks of all-round disgust from staff at the state of me feet; all blisters and bites) which was amazing nonetheless and scrubbed ourselves up as best we could for a night out.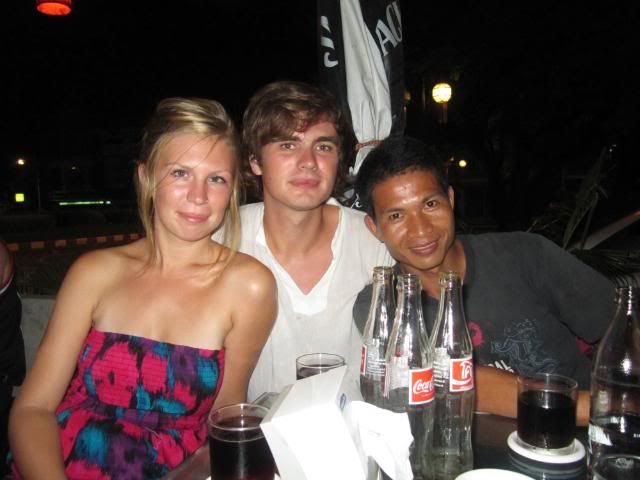 Even our wonderful guide came along to show us the hot spots in town and generally oversee the carnage that ensued (above). For those interested in seeing the affects of drinking cheap whiskey after walking for 3 days the full album is
here
but be warned; it's not pretty.
What a fantastic three days - a special massive thanks to Tonny, Jess, Yvone, Silvio and Nick for making the hard bits fun and the fun bits even better.