Vast, vast amounts of blog-space could be used to describe, in detail, all the reasons that Rob and I fell in love with Pai. Pages could be written documenting each of the many, many factors that made it almost impossible to leave and absolutely necessary that we return again.
We knew before we got there that this town in the north of Thailand would be a good'un; almost everyone that we had met on this trip that had been to Thailand cited Pai as their favourite place. Officially an ex-hippie community (Thai authorities cleared out the thousands of
farang
that were living there with free spirits but without visas a number of years ago) the hippie spirit - we knew - was still going strong.
The spirit of Pai reached us when we were still about an hour away. On a short break from the journey from Chiang Mai, we were musing at our total lack of preparation for our visit - none of us had even considered where we might be staying when we arrived. At this point we were approached by a Finish girl who told us of the guest house she had just left in Pai, insisting that we stay there and pass on her love to the owner and other guests. We called, they had rooms available and they'd pick us up from the bus station. Lovely.
When we arrived we were taken to
Happy House
in a tuk tuk and the owner, Fritz, introduced us
by name
to each of the other guests that were relaxing in the bar area. This has never happened before. Rarely have guest house owners known
our
names - let along us and everyone elses; we knew this was going to be a special place.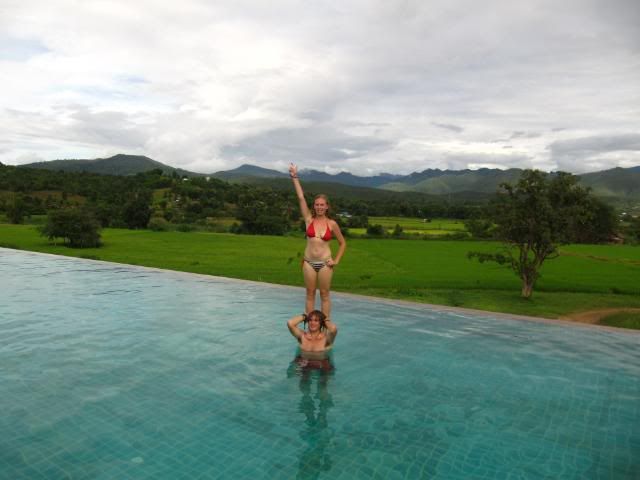 Then we were shown our rooms; Lukas took a dorm room and Rob and I were given our own bungalow - yes you read correctly. We had a front door, a porch, a bathroom, a fridge and within about 2 minutes of being there, Rob had set us up a bookshelf too. We were going nowhere fast.
Fritz took the time to tell us about the area and we sat and had a cuppa (free tea and coffee!) with one of the few long-term stayers, a British musician. It was early afternoon so we hired bikes and headed into the hillsides to a pool. Just look at it (above) We would spend a lot more time here - especially given that it cost just over 1GBP to stay as long as you liked.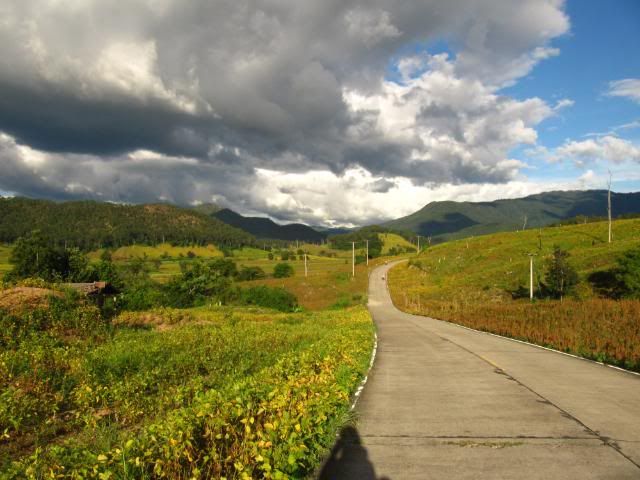 That evening the Happy family (it was like a family) were going out and we joined everyone for dinner and drinks and delighted in choosing from an almighty array of live music. In fact every night of our stay we ate with our fellow guests and enjoyed awesome live bands; thai and farang musicians played covers/reggae/blues/funk...you name it; someone, somewhere in Pai was playing it. Muscian heaven on earth.
In Pai we lost Lukas (damn education to recommense in Germany!)
but
we were joined by Rob's friends from home - Spooner and Sean - and a number of messy nights out ensued (see below)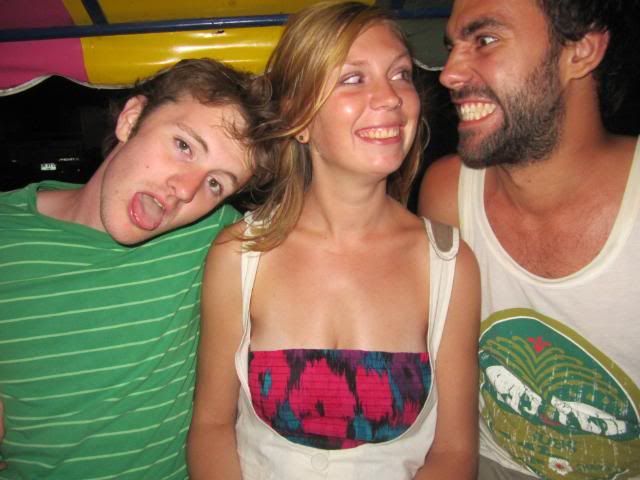 By day we rode through incredible vistas to waterfalls and viewpoints and hot water springs and sometimes to nowhere in particular because the riding itself was such a joy. And by night we wandered through the night market which stretched out over the towns small streets and gifted a number of beautiful vintage dresses to my already bulging backpack.
When the day finally arrived for us to depart; we didn't. Aside from being too hungover, we weren't ready to leave.
Pai has a relaxed vibe, a creative undertone, a diverse musical soundtrack - it makes you want to kick back, chill out and not worry about a thing - leaving included. And so we've changed our tickets, stayed another day and promised ourselves that when we leave we would not be seeing beautiful Pai for the last time.