New Zealand was just
made
to be explored in a camper van, and millions of tourists do just that every year. We bought our Toyota Townace, Emilio, and have loved cruising around NZ in it for the last 3 months...but was it the best way to do it...?
The debate ends here! This post adds up the most enjoyable / cost-effective / generally best way to get around these beautiful islands
[our calculations are based on a 3 month trip, all prices are in NZD]
Buy a Van
Obviously what you buy and how much you pay for it / sell it for is going to be different in each case so we'll use ourselves as a case study of what is quite a normal deal.
Buy van
: $4000
Spend on van
: Insurance ($250) renew reg ($77) and WOF ($50) and fix starter motor ($300) = $425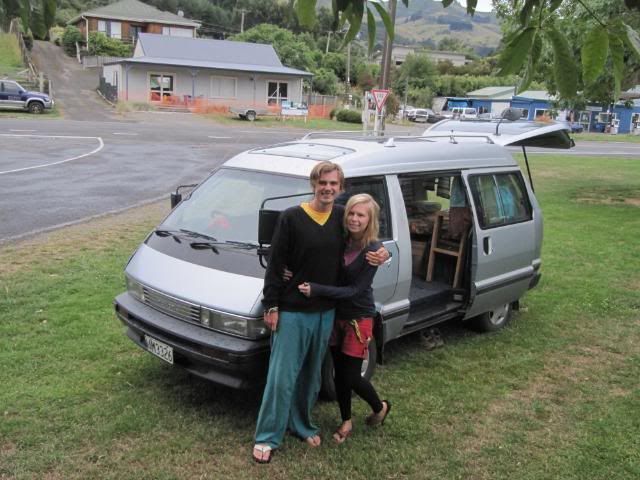 Petrol
: $1500 (this is an accurate rounded-up count...we're geeks)
Accommodation
: real purists could easily spend nothing at all but we stayed in a few DOC sites along the way (always much cheaper than private camp sites) and we treated ourselves to the odd hot shower when freedom camping wasn't possible (
Milford Sounds
,
Dunedin
and famously,
Wanaka
) so est. total: $100
Sell Van
: $4000
TOTAL spend: $2277
Risk: 4/5 – of course when we were looking at vans we were thinking about selling it on. Some might say we were unlucky with the starter motor expenditure but I'm just glad nothing major broke. Not being able to sell your van on would make this option very expensive
Enjoyment: 5/5 – there is simply no better way to see NZ than to take time exploring in a van.
Hire a van
Wicked
are probably the biggest name in campervan hire in NZ so we'll use their prices here as a guideline. Prices here are for the standard camper van which come with gas stove, folding bed and all the pots and pans you'd need (same facilities as our van)
Deposit on Van
: $500 – I'm pretty sure someone we met said this was their deposit, bu
t I may be mistaken, either way we're assuming that it's all returned so it doesn't really matter...
Rent of van per day
: $41 (it's $75/day for bookings of less than a month) so total for 3 months: $3690
Spend on van
: 24hr Road-Side Recovery is included
Petrol
: doing the same journey as above, $1500
Accommodation
: as above, $100
Deposit returned
: $500 – presuming nothing went wrong
TOTAL spend: $5290
Risk
: 2/5 – we've heard some dubious things about the quality of Wicked vans beneath all that spraypaint but for us the biggest risk would be driving around in a truly hideous van...would you really want to pay to be driving around with "free breast testing here" on your bumper?
Enjoyment
: 5/5 – apart from the dodgy slogans, as above – there's no better way
Hire a fancy van:
Oooh there were some serious bouts of van-envy on the road at times.
Jucy
seem to do the best of these, so below is the price for the Jucy Condo – it comes with sink, water tank, 2 fixed double beds, fridge, gas cooker and a flat-screen TV with DVD player
Deposit on van
: 20% on camper vans, none on smaller vehicles, so $774
Rent per day
: $43/day = $3870 for 3 months
Spend on van
: 24hr Road-Side Recovery is included
Petrol
: doing the same journey as above, $1500
Accomodation
: Once you've got the extra facilities you may as well get full use out of them...and this means being plugged-in...though this doesn't have to be every night it does sensible to re-charge fairly often. So at an average of $35 per night for a powered site, staying 1 in every 3 nights, the total for 3 months is $1050
Deposit returned
: $774
TOTAL spend: $6420
Risk
: 2/5 – the risk here is lowered by having to always stay in proper places, which usually aren't down dirt-tracks
Enjoyment
: 4/5 – yes life inside your van is bliss but aren't you here to explore the wonderful land outside your air conditioned box on 4 wheels? At least for us, camping out in the wild was part of the fun (most of the time) but this is the perfect thing if you're more of a flashpacker
The Kiwi Experience
I'm including this only in the interests of thorough journalism (yeah, because that's what we're all about here :) ) - in fact you couldn't pay me to get on the
big green fuck bus
and share tiny, prescribed portions of the country with a bunch of drunk British 18 year olds...apologies, that's harsh, I've never been on the bus but I do know I drive the other way when I see one pull-in somewhere
Anyhoo...
Price
: its $2200 for "The Full Monty" pass "This is the bus pass for the tr
aveller who wants it all, and doesn't want to miss a thing!"
Rent per day
$0
Petrol
: $0
Accomodation
: $25 per night for a dorm room, total for 3 months: $2250
Total spend: $4450
Risk
: 0/5 – you know exactly what you're going to get. You'll definitely miss out of seeing anything "off the beaten track" - but that's not really a risk, that's for sure
Enjoyment
: 2/5 – rushed timetables and structured fun? No thanks...for me at least the '2' is for the glimmer of hope of meeting the kind of great people we met while driving and because you will see all of NZ's big attraction – which shouldn't be belittled by my biased against this option
SO
to conclude – the good news for us is that our 3 month trip was the cheapest – staggeringly it was less than half the price of doing it in a Wicked Van with the same facilities.
Hiring an all-singing-all-dancing Condo was only marginally more expensive than hiring a standard camper van – it's just paying for electricity and water on the way round that brought the price up...those who like comfy beds and the ability to stand up inside vehicles but don't mind washing up in streams would do well to consider this option.
The Kiwi Experience was actually much more cost effective than I thought it would be – a perfectly reasonable option for solo-travellers and/or gap yah students
Of course, time is a factor too – a week spent buying and selling a van on each side
of a visit would ruin a 1 month trip to NZ...short term visitors can quickly and easily pick up hire vans anywhere at all. There is so much choice that with competition and return-legs to be had, there must be cheaper deals for the time and money conscious traveler
There is also a 5th option that I have not yet mentioned; Hitch Hiking – it gets you to anywhere there are roads and sometimes even where there aren't (if some of the hitchhikers we picked up are to believed) – of course it's totally free and, apart from the standing in the rain on the edge of a motorway every now and again, also incredibly enjoyable. The risks are high (rape, murder, incredibly dull conversation) but as long as you have a tent and a lot of time, it's another great option.
So that's it for today, apart from easing our minds (if not our bank balances) I hope that this post also helps someone somewhere who was thinking about driving around NZ, by which I mean...encourages them to DO IT, because it is truly amazing.
This post is proudly in support of Blog4NZ - a collective of travel bloggers and tourism industry folk who are dedicating these three days to supporting New Zealand which, in the wake of the Chrishcurch earthquake one month ago, is still very much the place to be...we think so at least :)

[all images stolen from Google Images]