After making our fame and fortune we retreated down the coast to the nearest slice of La Francais that we could find. Of course in our case we were still in Tamil Nadu, the heat was unbearable and there were considerably more men in
dhoti
(think: table cloth round the waist) than berets.
We had made it to Ponicherry and, we are sorry to report, that it was not
très
French.
That said; we were lucky enough to arrive just in time for a openair concert by Sam Smala (big time french gypsie jazz 5-piece) which was great and concluded in a call to dance. A call that was met by a...now what is the correct collective noun here..? a horde? a wrap? a bandana of french hippies, yes; a bandana of french hippies that emerged from the night and funked out the rest of the set.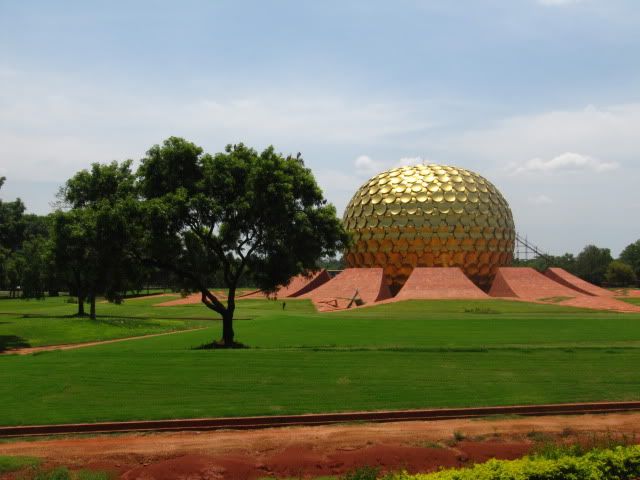 We also visited Auroville, a
universal township
founded by a lady known only as
"the mother"
built for the
progress of humanity towards its splendid future by bringing together people of goodwill and aspiration for a better world
.
In reality it's a nice town built around The Matrimandir, a giant gold golf ball - I'm sorry - "a symbol of the Divine's answer to man's inspiration for perfection."
It's not exactly flying the flag for successful communism but, still, I wouldn't invite Chairman Jintao around for a guided tour.