Team 365 is happy to report that since escaping Jakarta on a
very
cold train, Indonesia has been kind enough to gift us a beautiful town to call temporary-home.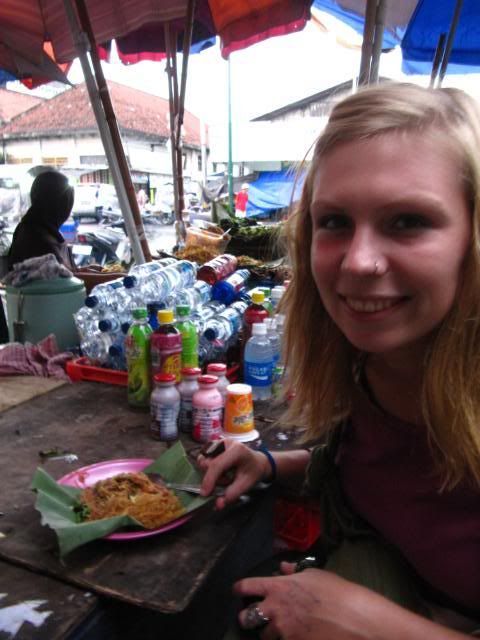 I'm writing from Yogyakarta (pronounced Jogjakarta) that boasts a daily market that goes on and on. And on. Even better, at around the stroke of 10pm it transforms into a food market that goes well, not so far, but further than any other straw-mat-and-low-table-street-stalls-serving-
nasi
I've ever seen before. It really is a fun place, you can't go far - and you certainly can't eat a meal - without a guy and his guitar serenading you with what I imagine is Indonesian hits or cheesy ballads from the 90's.
The town is also home to the Palace of the Sultan of Java; the grounds are a sprawling mini-city and the Sultan himself still employs around 25,000 people who live in the grounds and work for him, tax free. We met a few of the traditional puppet-makers and enjoyed a wander round the streets,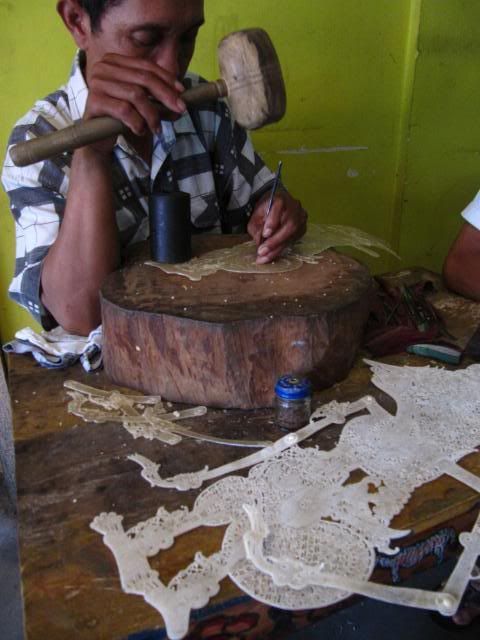 which were indecipherable from the main town really, but beautiful in a small, meandering graffiti-splattered kind of way.
Now, Team 365 has
not always had the greatest of track-records with volcanic eruptions
and little did we know that as we made our way on a selection of buses to a particular beautiful temple, that we were within days of the whole thing being closed to us thanks to the another volcano. I'll explain, when Merapi erupted in November it caked the whole monument in volcanic ash and a specialist team in protective clothing (not monks praying, as I excitedly observed from a distance) were there to clear it up.
Unfortunately this meant that we couldn't climb up the structure but we had more access than those who'd come before us, and it was still stunning. Often compared to
Angkor Wat
in Cambodia, it was , for me, a much smaller more intimate experience. The stone carvings are similar but Borobudur, built around a hill in beautiful lush green lands is spectacular in its own way.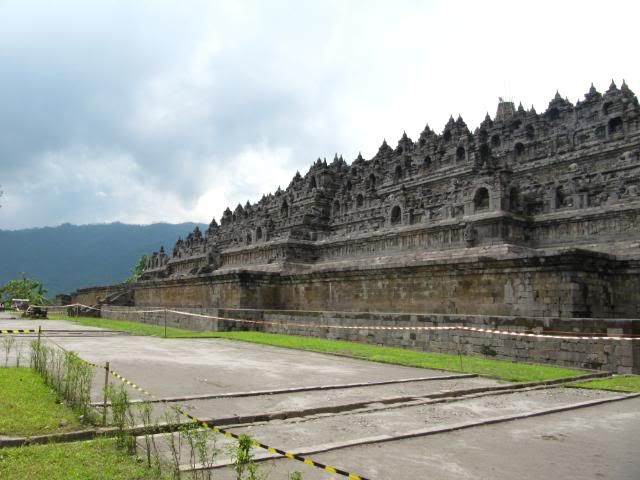 We spent a gloriously sunny afternoon exploring the temple and the strange selection of Museums the Indonesians deemed worthy of inclusion (a magic museum with walls of photos of bizarre world record holders such as lady with the longest tongue/a 2-headed horse/child that could bounce balls...why??)
It has been great here and tomorrow we embark upon a
long
journey to the edge of an active volcano. Brave or stupid? You decide...and I'll confirm back with you in a day or so :)