So here we were, Cambodia's premier tourist attraction. The big one. In many traveler's cases (however wrong 365 feels this may be) the
only
reason to come to this wonderful country.
Built over what would eventually span a 400 km² , Angkorian kings started in AD802 to build what would be known as Angkor Wat.
In fact Angkor Wat is but one of the thousands of temples that have survived wars, the force of nature and repeatedly being forgotten by their protectors only to be 'rediscovered' again; safe to say, this will not happen again.
With much to see, we left early so as to see the sunrise over Angkor Wat, a grand entrance to this holy site. In the darkness we followed the crowds over a rocky path that we'd later discover was a beautiful walkway surrounded by a lily-pad strewn lake and into an opening lined with more Japanese tourists and protruding optical zoom lenses than I've ever seen in one place at one time. Ever.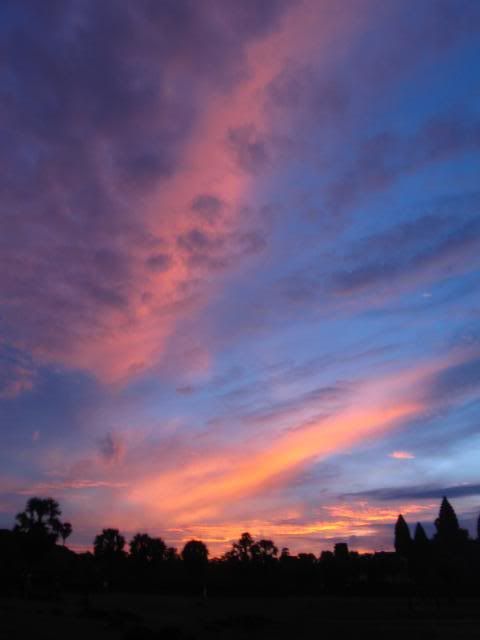 The sunrise, as you can see, was stunning. There were points at which it was difficult to distinguish tree-tops from the temple turrets but as the sun shone bright and clear it was obvious, but none the less breath taking, to see the fullness of the temple.
All the more satisfying was the ability to climb all over the intricately carved stones. If the temples had been built in England, health and safety would have lost their tiny risk assessment minds and cordoned the whole thing off; but thankfully, not here.
The temples here are much more spaced out than at
My Son
so we had arranged for a tuk tuk driver to take us round (elephants, helicopters and even a hot air balloon are available but, of course, not budget friendly.)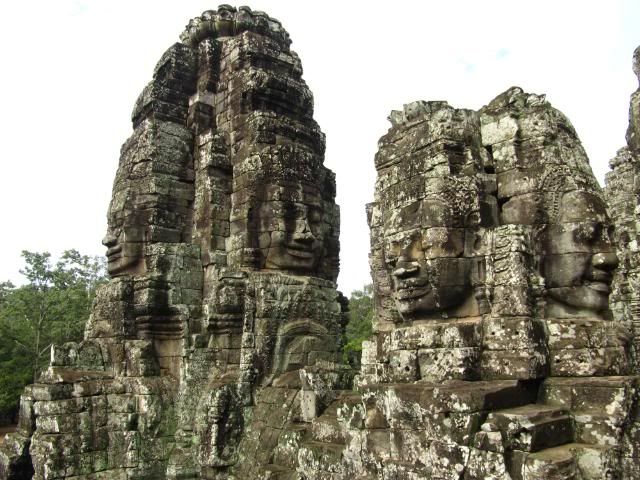 We were sped onto the
Bayon
group of temples, which were my favourite. The main temple, built by Jayavarman VII in the 12th Century comprises of 54 gothic towers with no less than 216 faces carved into them, which apparently (though unofficially) look rather like the king himself. Should anyone at the time have had any doubt about his all-seeing but gracious power as leader, they need look no further than the gently smiling faces that adorn this magnificent structure.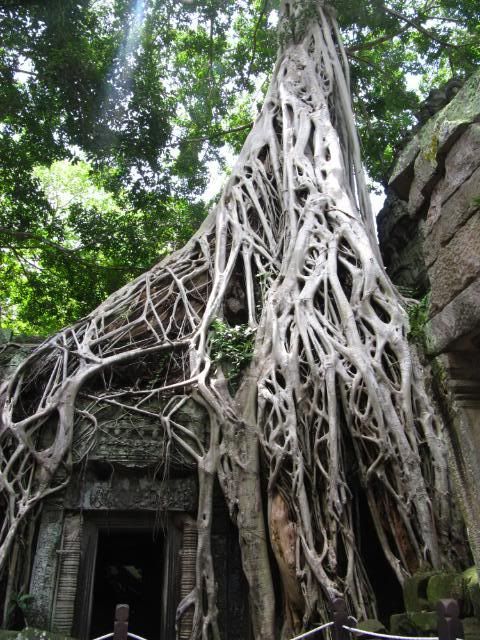 Our final stop was at
Ta Prohm
, which has affectionately come to be known as "the tomb raider temple" since it's appearance alongside Angelina Jolie in the hit movie.
There the trees that once surrounded the temple have completely integrated themselves into the structure. Huge roots curl like fingers around the stone, holding walls in place and giving the site an organic and other-worldly feel. One cannot help but feel tiny, passing under trees and temples (here beautifully indistinguishable from one another) into this larger-than-life snippet of years gone by.
Since we had opted for the 1 day pass our time was up, real temple fanatics can purchase 3 day and even 7 day passes. There was much that we didn't see, but more than happy with what we had seen we called it a day and retreated back to Siem Reap for a cool Angkor beer while 'Dr.Fish' removed 3-months worth of bad skin from our feet (please see
photos
for further explanation of this.)
Another incredible day.