I have to begin this post with a massive, brightly-lit, way over the top, Vegas-style thank you to Rob's parents, Mac & Trish, for kindly and cleverly suggesting that our birthday presents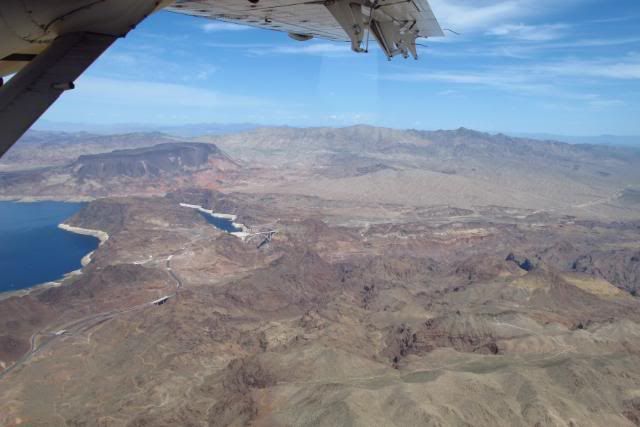 this year come in the form of a donation towards doing something extra special in Nevada's party city. Fighting the temptation to cash this in for a 7-day buffet pass (what a way to go) we opted for the
Grand Voyager
pass to the Grand Canyon. And extra special it was.
After our first night out "on the strip" the day began with a bus ride to Boulder City airport at a very reasonable 11AM. After a short wait we were flying in a light aircraft over the desert and above the Hoover Dam. This huge structure, so the in-flight commentary informed us, is still the heaviest man-made structure on earth – to withstand all that water pressure it's almost as wide at it's base as it is tall (200m) - and contains more steel than the Eiffel Tower.
It was a bit of a bumpy ride but there was plenty more flying to come because now that we were on the edge of the Grand Canyon, we were taking a helicopter down into it. I was even lucky enough to get the front seat and sit next to the pilot. From this incredible vantage point the greys and reds of the sheer rock face were visible through a window that stretched from the ceiling all the way down to the base of the helicopter, just past my feet. The moment that we flew over the rim and the deep canyon fell out below me is one that I will never forget.
It was a short but breath-taking ride, everywhere we looked looked like nothing we had ever seen
before, and deep inside the canyon – thanks to the Colorado River – it was actually much greener than you might expect of a massive crack in a desert landscape.
Here, within millions of years of mother nature's finest handiwork, our incredible list of modes of transportation for the day, then extended to boat. And not just any boat, a small carpeted boat with plush leather seats and (lucky for us) only one other wonderful couple to share it with. With a guide from a local tribe we cruised slowly upstream, able to marvel at the vastness of this natural wonder that reached up to the sky all around us, as he told us of old tribal traditions and the history of this sacred land.
Back in the 'copter (can one be so casual about a helicopter ride after just one trip? Probably not...) we were taken up and out of the Grand Canyon and back to a small base built wonderfully close to the edge for a late lunch. By this time the heat of the sun had been diminished by a thin layer of cloud cover and outcrops were casting long shadows across the canyon walls. After a good feed there was time only for a small bit of clambering over rocks, a final few snaps of a sight there was no way we could possibly forget, and then a flight back to Boulder City.
We were eventually returned to our hotel at just before 9PM – a long but beautiful, awe-inspiring and absolutely unforgettable day. This tour was with Scenic Airlines, who ran the trip like clock work and would come highly recommended
from us if you ever find yourself in Nevada.
Huge thank you hugs to Mac & Trish again – not long now until we can do that in person :)