Hello from the buffet hall in Circus Circus where Three Six Five are enjoying the final meal of this incredible adventure. Yes we've come a long way since we departed, pale and considerably wealthier, 364 days ago – but this is not the time for reflection (big plans for that post are afoot though) this is a time to tell you all about our last few days.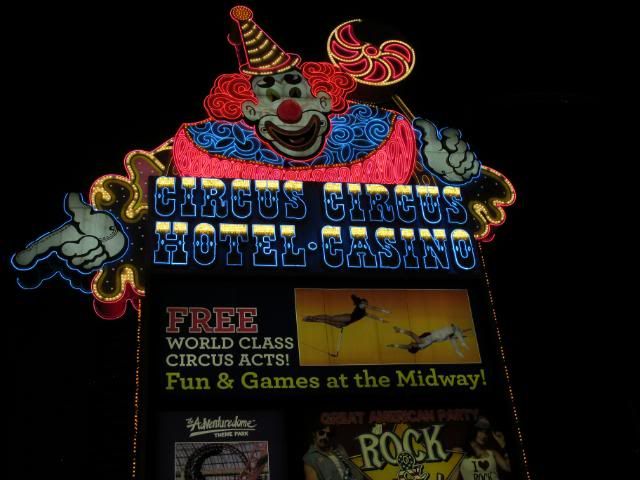 Las Vegas is, as it's reputation would have you believe, loud and bright and garish and thoroughly fabulous. We cannot think of a place that is less like the dark and dusty streets of Delhi where we began our trip. Everything here is geared towards spending and everything is being sold by sex, in one form or another. You can't walk around without a guy in a 'girls girls girls' t-shirt snapping a calling card into you hand and a troop of vans with some suitably saucy ladies pictured and the slogan 'hot girls direct to your room in 20 mins' patrols the strip with alarming regularity.
Huge video billboards show adverts for resorts and shows in incredible audio and visual quality at every corner. Some roads cannot be crossed without taking a series of escalators up, over and through a resort's mall or casino – only the most dedicated of pedestrians could possibly pass through all these obstacles without parting with a penny.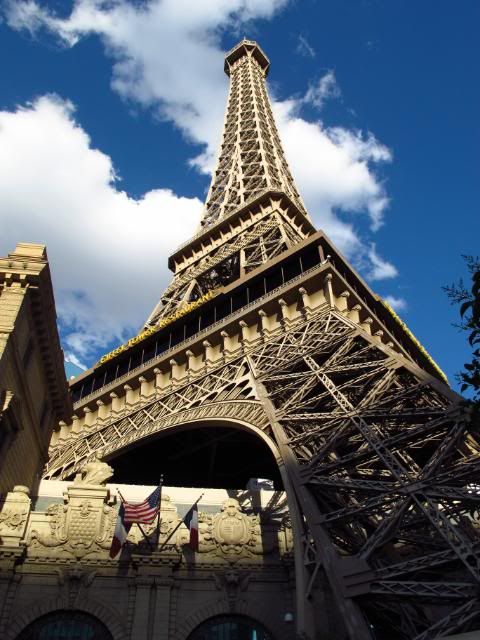 Inside the gigantic resort complexes, though some sort of theme prevails (the Venetian has Sistine Chapel-style painting and gondolas, Paris has replicated the Eiffel tower and Circus Circus is full of clowns) basically all the casinos are the same. Once inside the sound of coins falling and slot machines beeping is overwhelming, people perch on stools hunched at their fruit machine or sit with a calm sense of panic at the high rolling tables.
Maybe this post is sounding a bit negative so far? That really wasn't my intention – all of the above is fact, it's true, it's what makes Vegas, Vegas and we were here because we wanted to be part of that, and – believe me – they make it as easy for you to fall into it as they can. We had to pass through two casinos to get to our room and when we did go in for a bit of gambling – we loved it.
Needless to say we were not playing for big money, and after a few gos on the slots (still don't really know how they work) we settled down at a roulette machine. Here we could play for 25c/spin and we didn't have to wait for other people to play – it was great. And it turns out the rumour of free drinks as long as your betting is true too, we were down a few Long Island Iced Teas and up a few dollars when we upped the bets. In the end, as you can see from the overjoyed expression on my face here, we turned $5 into $38.75 – that's a 700% ROI! Surely that never happens in Vegas?! Maybe we should have bet more in the first place..? (no, no, that's how they get you) But these winnings meant we could have a night out, all winning, loosing, drinking, eating and tipping included for a profit of $5. Magic.
Partially to save ourselves from the draw of the next big win and partially because it is one of the things to do here we decided to get tickets to a show & buffet for our last night. We were hoping to go to a variety show but in the end saw a comedy/burlesque show called Sin City which was really pretty good – lots of ass, lots of laughs; what more could two world-weary travellers ask for? How about 70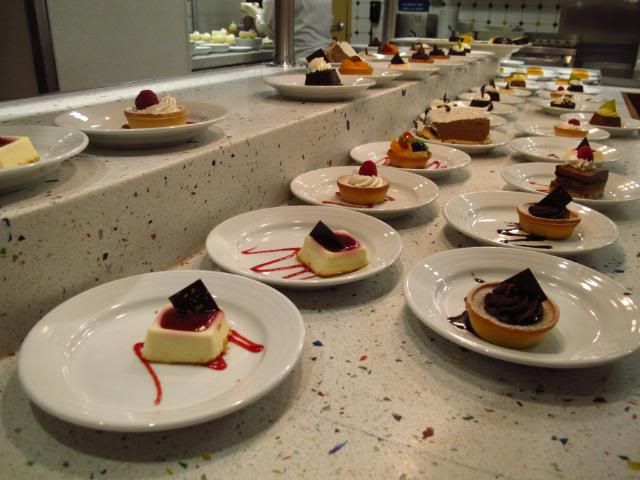 different dishes (desserts pictured) in a room the size of 3 football pitches that were all-you-could-eat? Yeah – we had that too.
Our walk home took us past the scarily over-sexed Call of the Sirens show at the front of Treasure Island and the infamous dancing fountains at the Bellagio. If we had been burnt before by dancing fountains (see Mysore) the thoughtful choreography and lighting of these fountains dancing to the sweet sound of Celine Dion's My heart will go on (surely the greatest show tune, like, ever?) smoothed them away.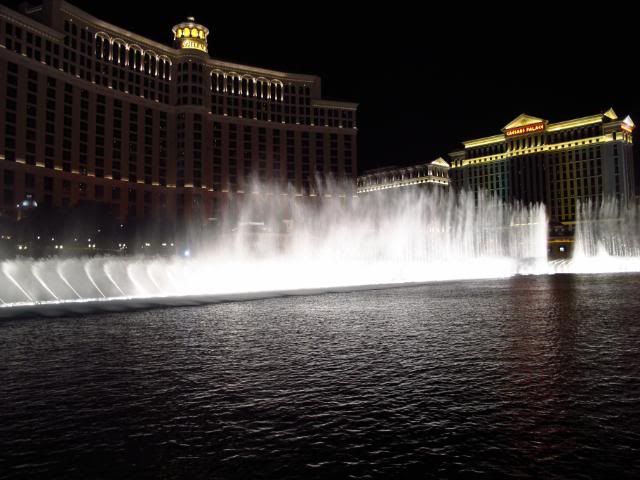 This was Vegas – of course it was going to be bigger and better than anything we'd seen before.
And now here we are, a few plates have been cleared since I began typing and there is a sort of quiet mood at the Three Six Five table. This may be because we've reached new levels of full (two buffets in as many days...that basically makes us locals, right?) or because, as Rob just asked me "Can you believe we're getting on a plane to go home today?" Honestly, no. I've regressed back into denial on this one, but believe it or not in four hours we'll be on our way to Gatwick.
Vegas has been a suitably memorable ending to a truly unforgettable year but, really, there's no place like home.