It was ladies' day at the races - but not quite as you may know it. There were no hats, no handbags and no horses - we were in
Pak Ou
for the provincial boat races.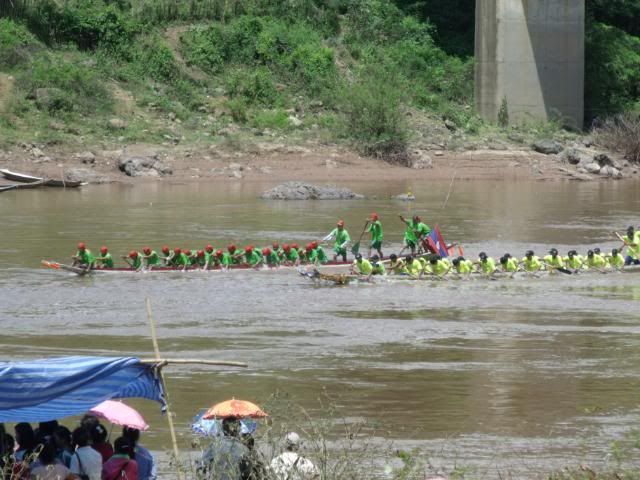 The boat races themselves involve two teams of between 20 and 30 men in brightly coloured shirts rowing vigerously in longboats (very long boats) down a strech of the Mekong past the crowded banks of locals cheering, banging drums and drinking
beer lao
. But that is just the reason for the parties that were breaking out along the water.
Jeff and I, on thinking we'd found a bar set up on the river side - there was a large number of beer crates, a spit-roast pig, a huge ice bucket and chairs and tables under a gazebo - enquired after a beer. We were invited to sit down and thus joined the work-day-out of the local electicity board who did not thereafter allow our glasses to be empty; apart from, that is, after cheers-ing and shouting 'muut!' which means just that; empty.
We spent the day meeting the friends and families of our hosts and through one man that spoke the best English we were introduced to wives, daughters, sons, a friend that worked in construction ("he build that bridge!"), a man that made furniture ("you want chair?"), and a lady that ran a guest house in Luang Probang ("you stay with me now,
na
?").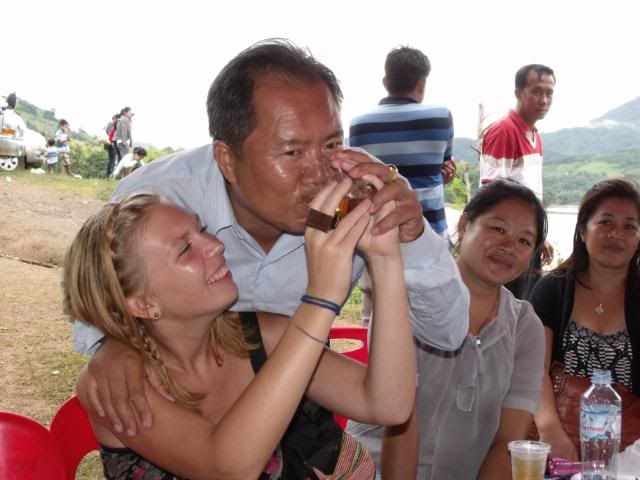 It was such a show of the famous Laos friendliness. I think this will be the main thing I miss about travelling in Asia. Imagine turning up to the Thames on the Cambridge/Oxford boatrace day and spending the whole day eating and drinking with perfect strangers who insisted on not accepting any money ("your our friends, your with us, now you pay nothing") and even going on to drive us home and invite us to stay in their luxury guest houses. It just wouldn't happen, which is a shame.
We managed to drag ourselves away for just long enough to buy cakes for the children as a thank you and by the time it was dark and we were driving home it is safe to say we were pretty drunk - it was a truely unexpected and wonderful day.