So while Rob was off whispering to elephants (more to come on that, shorty) Jeff and I took ourselves off to a one-day food extravaganza of a cooking course. Laotion domestic goddesses we became - and very full ones at that!
The day began with a trip to the market with our two chefs, Leng and Phia - luckily we were the only ones on the course that day and so could fire all our cooking questions directly to our knowledgable hosts. After the market it was back to the kitchen to have a cup of tea -
very
important in the cooking process, don't you know?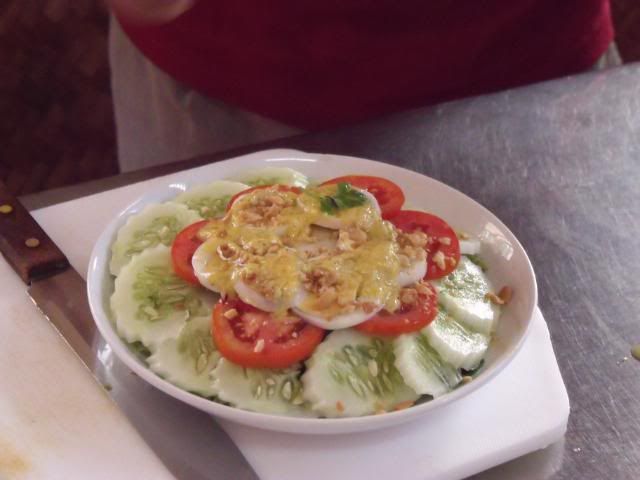 Then we got stuck in with the first course! First we made a Luang Probang Salad (right) - basically lots of veg with a homemade (and very easy to make) mayonaise; prepare to see this again at every BBQ I attend in the future. You lucky things. Also a Feu Khua which involves frying noodles with egg and green asian veg in a delicous chili sauce. Then we ate!
Then Leng and Phia demonstrated 3 dishes and we were able to make 2 each - the best thing about this was that I got to try every dish in vegetarian, even dishes that I'd seen over and over again in restaurants but hadn't been able to order because they always came with meat.
Between Jeff and I we made a chicken and a tofu
Larp
- which is a traditional cold salad that come chopped up with all sorts of awesome herbs and spices, and a
Kheua sen lon
- which was all about throwing aubergine, soft, rubbery mushrooms (called
woodear fungus
) and noodles and lots of garlic into a wok.
Our last dish (for this round) was an Oh paedak - traditionally this is a soupy dish made with a particular fish sauce (paedak) that is made from fermenting the whole dead bodies of fish in an urn. For weeks. And then crushing it - bones and all - down with oil. The smell is pungent and even the Laos admit that you have to be Laos to really love it, we saw it in the market and honestly it looks like dead fish in a bucket of mud. Luckily nowadays most Laos use shrimp paste and thanks to my herbivorian tendancies we made ours with soy and mushroom oyster sauce. Yum!
You'd be forgiven for thinking that this was more than enough food to keep two travellers happy but the cooking did not stop there. Next up we made (Jeff's favourite dish)
Khua maak kheua gap moo
- it's as fun to say as it is to eat, an aubergine fry with tofu and a spicy oyster sauce.
And our final dish was
Geng phet,
a creamy curry that was light relief from all the above frying.
I say final dish because even then there was more cooking to be done and we are now masters of sticky rice (which anyone who has been to Thailand will already know and love) and Jeowbong - a chili sauce that we served alongside ALL of the above and tucked in.
Just look at that happy face behind that mountain of food - what a glorious day!