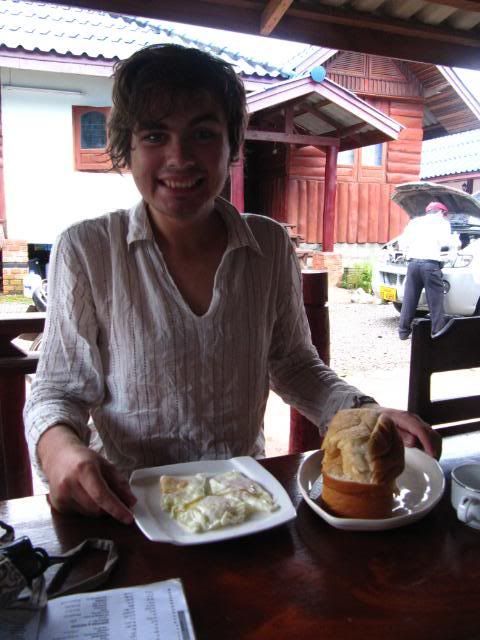 The last stop on our almost-
Motorcycle Diaries
adventure was a 7km long cave called
Kong Lo
and it was even more spectacular than we had imagined a cave that was 7km long would be.
We had opted for the more cost-effective method of sharing a car with some other travellers also staying at our hostel and so after a
big
breakfast (look how happy Rob is with his eggs and half-a-loaf of bread) we arrived in style and ambled our way to the river down a lovely wooded path.
At the rivers' edge the guys in the 'Boat Committee' (so the sign on the wooden hut read) sprang into action and armed with head torches and super stylish life jackets (Jeff, below, proving that day-glo is still very much
en vogue
) we sailed in longboats to the mouth of the cave where we climbed off and ventured inside.
Just inside the cave there were more boats waiting; engines were quickly carried into the boats by our two drivers, both with really bright head torches wired up to battery packs at the waist (safety first.) We climbed in and departed at full speed into the darkness.
The cave is incredible; you could barely see where the stony walls ended and the murky waters began. Stalactites hung from the ceiling while water dripped and bats flapped and squeaked overhead - just as I was wondering how on earth these guys navigated through the blackness we turned a corner and saw daylight, we also saw that some rapids had formed and we were heading straight for them. When you think about it; one little bump into the slimy walls isn't too bad. The boat tipped left and right and we took in some water but the engine powered through and we were back on course in no time. Actually; I think it was my favourite bit of the ride.
Stopping on the river bank we waded to shore and had a wander around the local village; which was a quaint and muddy experience - my boots had been well and truly broken into that kind of thing on
day 1
and it was nice to squelch around again, really.
We were returned the same way again, still marveling at nature, and all-in-all the round trip was about 3 hours and well worth the visit. We were smoothly deposited back at our hostel; slightly cleaner and much drier than we had started our Laos-based motorcycling adventures, but we've definitely got a taste for it so expect plenty more two-wheeled trips from 365.