'The Loop' is a off the beaten track route around the Bolikhamsai & Khammuan provinces. Most travellers will spend 3-4 days on a motorbike to complete the whole loop but after being rained-in and most definitely rained
on
while at the
Bolavan Plateau
we decided to adjust the itinerary a little.
We set off bright and early from Tha Khaek with Steve and Jeff and after an initial detour (which was literally taking the scenic route in this case) we found our way on the smooth roads of Route 12 to our first stop;
Tham Pha Fa;
a remote cave filled with Buddha statues. The amazing thing about this cave, apart from how so many stone statues got there when it was discovered by a local farmer in 2004, is that in the dry season it is accessible by foot. When we arrived kids were throwing themselves off a bridge into the swollen river and we had to access the cave by boat; we sailed above bars and tables and benches and scrambled up the rock face into the cave.
Our next stop meant some more boating and we sailed out of the glorious sunshine and into the darkened
Xieng Liap;
a stalactite-filled cave where a monk and a beautiful young lady were meant to have secretly met. The name literally means monk (xieng) and sneaking around (liap).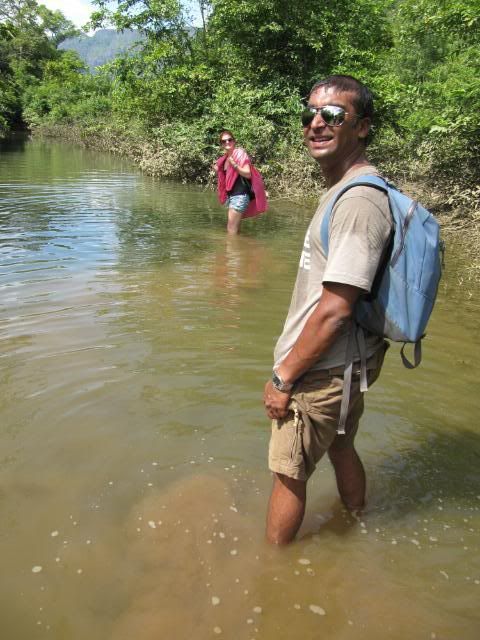 But the bike tour needed to go on and our third and penultimate stop was to be the most adventurous yet. We'd heard that the dirt track to
The Falang
could get a little hairy in the wet season so when we rolled off the tarmac and into thick sticky mud we quickly disguarded the motorbikes and took off on foot. The path that we
hoped
lead to the shady swimming spot went from muddy to very muddy and we eventually ended up wading through a puddle that was waist height - it was awesome. Luckily our navigation had been accurate and we found the cool spot and slid down the muddy bank into the cool waters of the Nam Don river for a swim.
The sun was out in force (hurray!) so the river was a welcomed break - and a good chance to confuse some bemused locals that were either telling us with hand actions that the path was impassible because the water was shoulder height, or they were happily telling us that they'd slit our throats. Thankfully neither occurred.
Our last and final stop in this, the southern section of The Loop, was at
Tham Aen;
a huge cave that we had to wade over a river to get to. As the sun set we made our way round the gloomy interior by incredibly useful, if a little un-aesthetically pleasing, staircases that had been built in.
Under a starry sky we sped back to Tha Khaek to enjoy a beer and dinner at one of our favourite spots on the Mekong; a place where you can in fact see Thailand. Which is pretty special really.
Day 1 on The Loop had been a outrageous success; and there was plenty more to come...