From Phnom Penh we traveled to Kampot, a comparatively small town that spends most of it's time chilling out near the coast of Cambodia. Come the wet season, however, the main draw of the town moves away from the sun and sand and towards Bokor National Park, situated in the jungle coated hill side that loom over the sleepy town's shoulder.
This is exactly the reason we were here, and although slightly worried by combining a day long trek up a mountain with Asian monsoons and over three months of no exercise, our concerns were soon put to rest by Brett; an American anthropology teacher and part owner of the restaurant we stopped in for lunch. We booked the trek for the following morning, only to delay it a day following Brett's offer to watch an Ultimate Fighting Championship pay-per-view (he and the locals go wild for professional fighting) and take a cycling trip to the Kompong Traach caves on the same day over far too many 'Klang' (literally meaning 'strong' in Khmer) beers.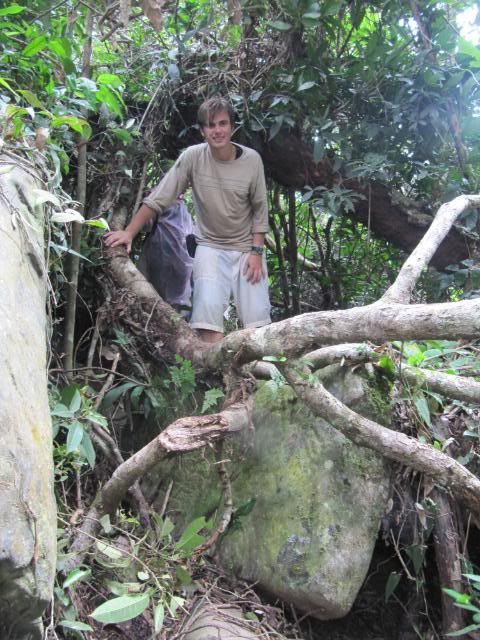 The day began early, being transported to the foot of the hill in the back of a flat bed pick-up truck. We checked we had enough water and insect repellent on us and off we went. Climbing over fallen trees, clinging onto hanging vines whilst navigating steep slippery slopes, squeezing through narrow gaps in trees and hearing gibbon calls layered over the sound of free flowing water... we really were trekking in a Cambodian jungle and it was truly magical. We would stop for water and our guide told us about how he was forced to escape imprisonment from the Khmer Rouge after witnessing his whole family be killed. He spent the following two years living in the jungle alone, not seeing another soul for the duration. Our insect defenses turned out to be a trifle underestimating too, the guide completing the trek with an AK-47 slung over his shoulder.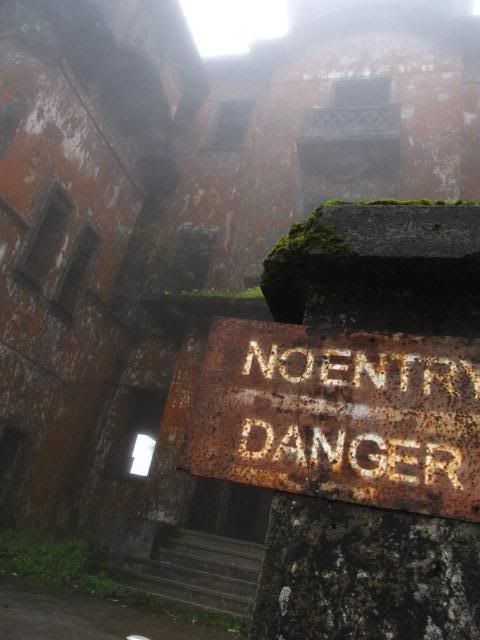 The remnants of old French colonial buildings lay scattered on the summit of Bokor. The buildings have not been used for years and just the shells survive now. The thick fog of the clouds swirling in and out of the remaining weathered concrete structures create an incredible atmosphere. It's as if it's straight out of a horror film. As we approached the ruins - including a particularly eery Catholic Church - they would just appear from the fog, only visible from 10 meters or so.
We walked/slid our way down after exploring the summit and finished our day with a relaxing boat ride down the Kampot River. We had dinner at our new favourite restaurant with some new friends; pretty much soaking wet from a day in the clouds. No beers and pledges to watch people knock each other out this evening, it was early to bed and early to rise for a whole day of travelling to Siem Reap and the temples of Angkor Wat.