For the last six days, Team 365 has had the honour and the privilege to spend time at BLESS (Beacon Literacy Education Service Society) - the only Primary and Nursery school to provide free education for the poor children in the Inugur area of Tamil Nadu.
For those of you who don't know; we were there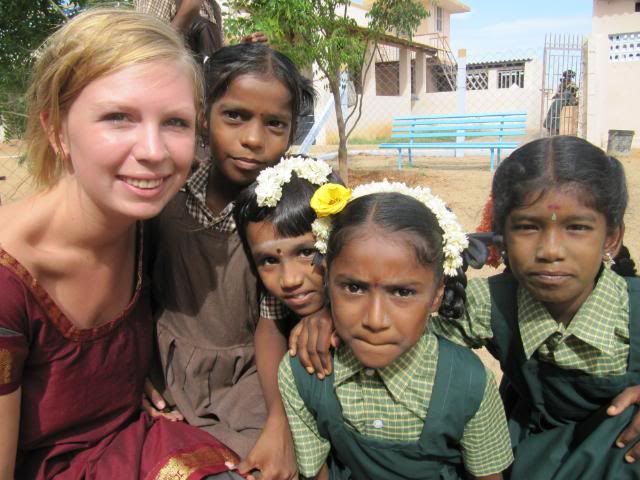 in particular because the Primary School building was built in memory of Timothy Pruss, one of Rob's close friends, who suddenly and tragically died in 2005, at 18 years old.
When we first arrived we were met with a deluge of uniformed youngsters, a frenzy of waves and shouts of 'hello!"'s and "how are you?"'s. This gave us a chance to practice our Tamil, which was met mostly with giggles and the answers (well pronounced) in English. By the end of the week this greeting, much to the relief of the staff no doubt, would calm to some hi-fives and casual "hi Kat/Rob"'s.
On that first morning we went to the Primary School foyer and saw the plaque that declared the building open with a photo of Tim hanging above it. The happiness of the children, the atmosphere in the school and the memory of a lost friend was more than touching. Especially when we were welcomed by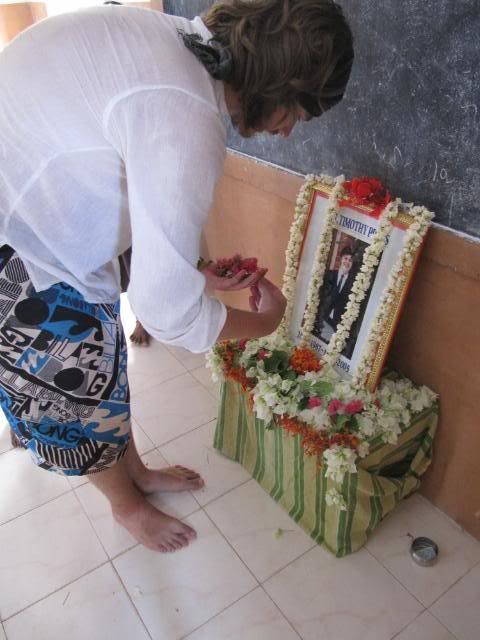 two children with bouquets of flowers grown in the grounds and introduced as "friends from England". As we stood, humbled, with watery eyes Senthil (our wonderful host and Secretary of BLESS) put his arm around Rob. "Don't worry" he said "Your friend lives on". And in the most incredible way possible, we could see that this was true.
In our time there we were happy to see some of the older students learning English, science and the intricacies of long subtraction (a class in which Rob even learned something - he forgot that you borrowed one).
Some of the younger students, however, weren't so happy to see us and on a few occassions our presence was seen to bring on a mexican-wave of crying. Senthil assured us that this was because the term was new and many children weren't used to being away from home yet. Furthermore, the sight of smiling white folk in the area probably brought back memories of doctors, and injections.
We were even able to take to the chalkboard and lead a class in a receital of the alphabet.
We're happy to report that there is now 20-odd kindergarden students who are one step closer to mastering
Incy-Wincy Spider
- with the hand actions, of course (they already have
I'm a teapot, London Bridge is falling down
and an adorable rhyme called
Chubby Cheeks
that they performed, bursting with joy)
Our stay with the school was brought to a wonderous end with a Saturday lunch with the staff and Senthil. We spoke about the existing 264 students and the aspirations of BLESS to increase this by 50 each year to reach 1000 students - both Primary and Secondary - by 2020.
We've seen first hand what the generous donations that Tim's parents - Tony and Mary Pruss - and Chigwell - Tim's former school - can do. To make these expansion plans a reality BLESS would need to build a new administrative building and extra classrooms.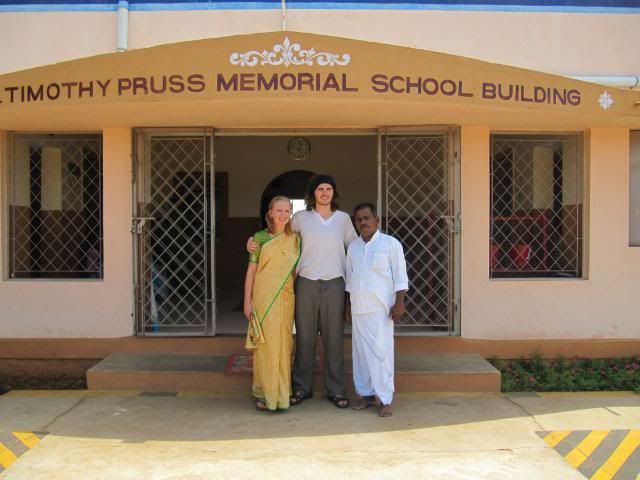 For us, this visit is the start of a long path of involvement with an amazing organisation. If you would like to make a donation, please do get in touch and we will be delighted to point you in the right direction.
Lastly, if we could say a special thanks to the Quinn's, the Pruss', Senthil and all of the BLESS staff without whom this, the most important and inspiring week of our trip thus far, would not have been possible.
Many thanks, om shanti
Team 365