Well it's been a while! Apologies for the gap between posts, readers, but truth be told we've been rather busy so I'm going to try and tell you a little bit about everthing.
Where did we leave you? Ah, yes, Baga - well we've been going further south to Palolem, which we'd
heard
was quiet and non-touristy but in fact was definitely not so after some more very pleasant beaching and eating we hit the road again - on scooters!
Needless to say - all of the driving was left to Rob.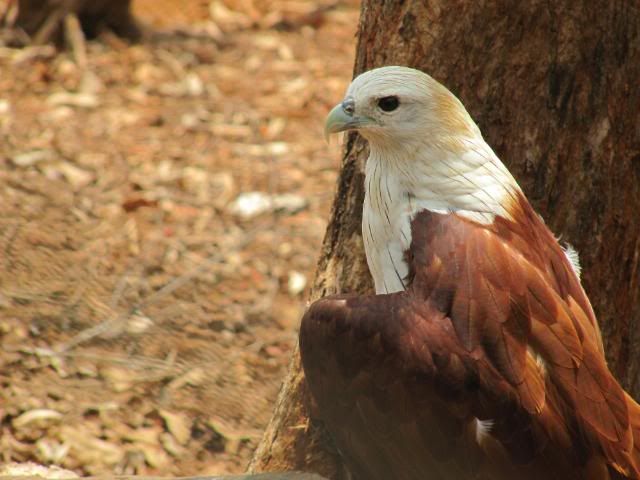 On the first day we explored the Cotigoa Wildlife Reserve and got very lost, was very little life that was wild (they had a cool python, it was in an enclosure though) and some beautiful sights.
On bike day numeros dos we drove north to a town called 'Betul' (pronounces 'beatle', but only to us so we could sing "Back in the USSR" as we scooted along the highway) where the Lonely Planet (hereafter: LP) had told us a 'tin-tub ferry' crossed a pretty river to Cavelossim where pristine beaches lay. This was the LP's first error of the day.
The ferry (it was tin tub) actually left from Assolna - but driving to Betul and through the fishingport with all the bright boats, pungent smells and waving fisterman was a pleasure of a detour. We made our way on the
free
ferry and headed to Cavelossim beach which was, team 365 are sorry to report, is not pristine (LP error #2) We had a dip but it was nearing lunch so we hit the road south to Mobor (pronounced 'Mordoor' but only by us- much to the confusion of those we asked for directions, who apparently weren't well acquanted with the whereabouts of Middle Earth.) We were heading here because the LP had pronounced "The Blue Whale BeachShack" to have the most picturesque views in all of Goa.
Driving past all the 5* resorts we rounded the peninsular to see, finally, the sign we'd been looking for seemingly standing alone in the dunes. Dutifully we followed the arrow on the sign over the red hot sand to a deserted and downtrodden hut which sat by
another
sign informing us that this was "a gift to Goa: as recommended in the Lonely Planet..." Not quite. (LP error #3)
We stopped in Cavelossim for a long lunch and almost definitely outstayed our welcome trying to keep out of the sun. Back en route home we JUST made the ferry - actually driving on as it was departing and followed the coastal road back to Palolem.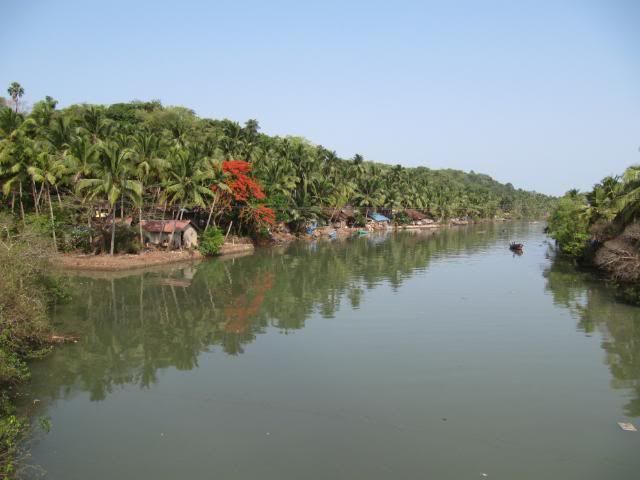 First, however, we found Agonda. The beach we'd been looking for - no tourists, barely any locals, just miles of actually pristine sands. Here team 365 would like to note that we think we've got pretty good at spotting a hard-sell when we see one, but as we left our bags in an almost-closed looking restaurant and the man casually asked if we were looking for a hut: "oh no no no". That was fine - we could use one of his to change in: "really? oh, that'd be great..." we approached a line of beautiful doll-houses of stilts "sure - use the shower, leave your stuff, however long you like". We were hooked. "Why don't we live here?" Shortly after we agreed to stay for two nights in two days time. Best. Sell-in. Ever.
Before heading back to Palolem we made another LP-inspired detour to Patnem, in search of "the best coffee and brownies in Goa" at a place called
Home.
Unfortunately another sign but a closed venue. Which begs the question: why not take the sign down when you close? Either way, we had a drink on the beach and watched the sunset.
We drove back to Palolem and ended up watching the cricket with some friends we'd made in Baga and getting quite drunk on 2for1 cocktails before, absolutely shattered, going to bed.