Good afternoon all! Hope you had a fantastic
white
Christmas. Well with the festive feasting over (apart from the turkey sandwiches that'll be good 'til they become the turkey curry around Wednesday) and the return to normal working life imminent, thoughts will no doubt stray to 'getting away from it all soon' so I thought I'd get in there with a quick post about the Gili Islands.
They got a little shout-out on our
Chrsitmas-day post
but, to be honest, they're so
so
bloody amazing I think they deserve some more cyberspace.
We took the short boat ride from Lombok to Gili Air, the nearest of the 3 Gili Islands, and took up residence in a small hut on the beach on the "quieter" Western side of the Island. 'Quiet' is a relative term here since the island only has a total population of 1,800 and there are NO vehicles. At all. No engines. No car-horns. No motorbikes. The favoured modes of transport are walking, cycling or the
Gili Ferrari
which is, when it comes down to it, a horse and cart.
We were told that you could walk around the entire island in under 2 hours; whoever was conducting this experiment had not hired a snorkel and fins for the day. We spent the best part of a day burning our shoulder blades and that bit you always miss behind your knees in various spots around the island and seeing all sorts of beautiful fish and coral but, unfortunately, none of the turtles that were rumoured to be "over populated" in the general Gili area.
After a couple of days of pure relaxation and some fantastic food we jumped on the
Island Hopper
boat over to Gili "the party island" Trawangan. No doubt avid Ibiza-lovers or even, closer to home, Bali-fans, may turn their beach-party noses up at this suggestion, but Gili 'T (see? it even has a cool abbreviation) is definitely the busiest of the Gili Islands.
Here the water is crystal clear ("I can actually see better through the water than I can though the air here", thanks Rob) and the beaches a made of the purest white sands. There is everything from the most luxurious of resorts and restaurants to the cheapest of food shacks that opened their wagons and set out their plastic chairs for dinner every evening. And every night one of the bars is
the
bar to go to tonight. There's always something going on.
We met up again with Brian, of
Lombok bike-day
fame, and invested in some more snorkelling which resulted in out first spot of the thus-far elusive hawksbill turtle (hurrah!) and some more incredible fishes that I couldn't even begin to describe.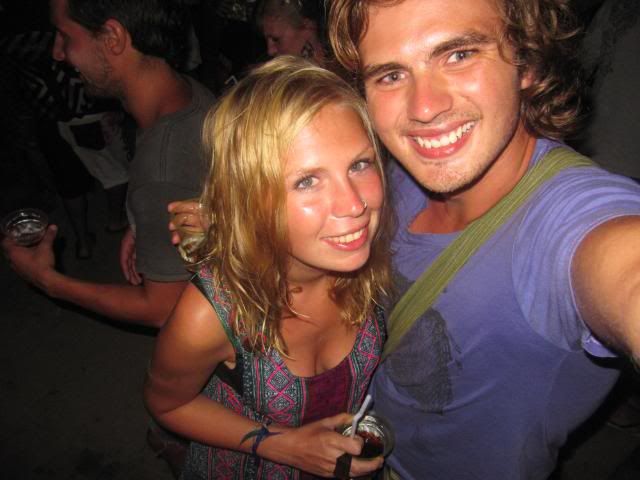 Diving is big business on the island, and we did indulge in our Christmas-Day-dive, but snorkellers are by no means unable to really enjoy the marine life that surrounds the island. Even those that prefer to just lie on the beach have been known to catch a glimpse of a turtle surfacing for air.
Despite big plans to do so, we didn't make it to Gili Meno, the middle and most rural of the three islands, for a day of - you've guessed it - snorkelling off beautiful beaches. We hear it's incredible and, given its two neighbours, I can certainly believe it.
The Gili Islands really are a perfect holiday destination and I would strongly recommend it to anyone with a couple of weeks that wants to relax, eat well, drink too much, see some turtles and/or be in some of the most spectacular scenery on this side of the globe.