Leaving Lovina wasn't easy – and not only because heavy rain fall had left main roads looking pretty water-logged and the small side road that we were staying on was completely flooded. Water lapped onto the high pavements where failing drains kept water-levels at about ankle height. In the morning the sun was shining and the roads, caked with rippling mud, were being diligently swept by shop owners and restaurateurs alike.
We had loved the relaxed feel and beautiful scenery of North Bali but now we were heading south – not quite to the afore mentioned white beaches – but to Ubud.

Ubud sits surrounded by rice paddy fields and filled, I mean filled to the brim with artists. It has a similar feel to Pai in northern Thailand, where musicians were out-numbered only by tourists and even a fair share of them could play something... Here the artists are equalled by tourists and touts, walking 10m of undulating pavement here is equal to, I would say, 2 offers of taxi services and, after dusk, the same number for dance shows.
So we decided to escape the hubbub and hired our favourite mode of transport to explore the magical and ancient hillside. After an early breakfast (pancakes, fruit salad and coffee are included in our room rate, hurrah!)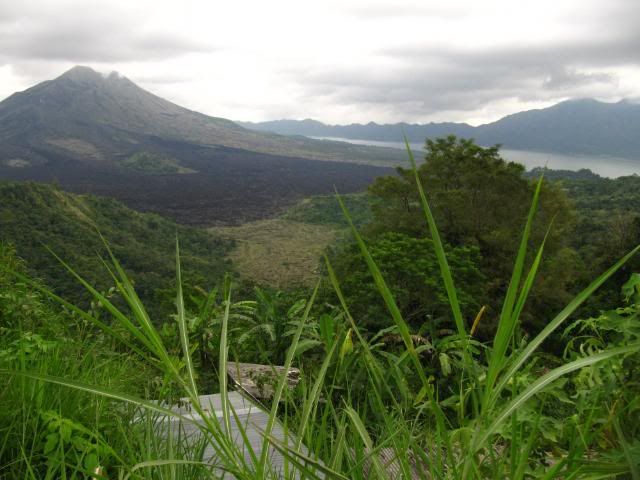 we set off on what would turn out to be a 60km ride to a sacred site near Pasar Siring, which lies just 18km north of Ubud.
Our detour did afford us this spectacular view and when we did arrive at Tirta Empul the sun had emerged and was bathing the temple and the crystal -clear waters of the surrounding baths – said to contain magical and healing properties – in a warm and hazy glow.
Naked men and women wrapped in full-length sarongs prayed and washed in segregated baths that sat between a huge and beautifully ornate temple. School children rushed excitedly around the grounds, either soaking wet or grouped in formal dress ready for lunch.
Exiting Tirta Empul was the only less than magical experience; visitors are shepherded through what must be at least 2km of winding path lined with souvenir shops. There must be 100 shops all selling exactly the same 12 items that seems to go on and on forever until you emerge no thankyou-ed out into the car park. Surely this must dirty even the most cleansed beings...?
Our other port of call in Ubud was Mandala Wisata Wenara Wana, most commonly known as The Sacred Monkey Forest Temple. Unfortunately apart from the sign at the gate that asks visitors to respect those that worship there I couldn't really see any thriving trace of religious importance; it's just a really good place to go to see extremely cheeky monkeys up close.
The many primates that call this home are not the kind that will shy away from delving into someone's bag in search of bananas or, as Rob found out, making a leap for your bottle of water mid-sip.
Sitting down here is not really an option, constant movement is really the only way to avoid coming under a fairly rigorous stop-and-search. It's an excellent hour-or-so entertainment.
Ubud is a very varied town. A (genuine, not fake) Dolce & Gabana shop sits on the same road as a sprawling market where every type of clothing or souvenir can be bought for next to nothing. Ancient temples sit along side swanky restaurants. You can by a meal for 15,000 Rupiah (just over 1GBP) 200m from a place where a mojito costs 10 times that much – during Happy Hour. No prizes for guessing which side of the divide we're on.
Ubud would be a great place to come on holiday; when you've got less time and more money. I'd recommend it to anyone.