Some people would have been forgiven for thinking that two people who packed their backpacks and said goodbye for a year didn't want to see their nearest and dearest for a good while. Well, if the
wonderful liaison
with friends
wasn't enough to dispel these rumours, Team 365 is
way
overexcited to announce the arrival of Sarah, my best friend and big sis.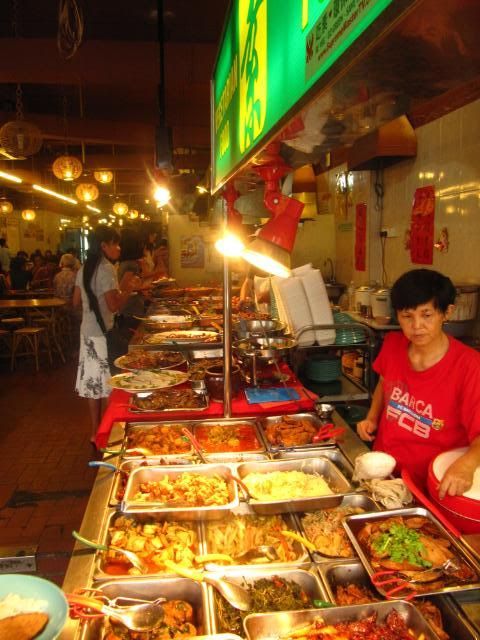 We spent our first days together exploring Kuala Lumpur, a city that is as beautiful and modern in parts as it is derelict and crowded in others. We were staying in China Town, where
the
largest and cheapest vegetarian buffet (look! it goes further than the camera can
see!
) kept us going between wanders through the park, ventures into Bangkok-style huge malls and speeding around town on the 'Rapid KL' sky-train (more transport geeking. Apologies.)
But Sarah had come from the big smoke and the weather hadn't really improved too much since our 'Samui days so we headed to, well, yes, a
rain
forest actually. But not just any old rainforest! A
very
old rain forest - 130 million years old to be precise. Taman Negara, which we travelled to by bus and a stunning 3-hour boat ride, has remained unchanged by ice ages or tectonic activity and we were going to trek through it...at night.
It was only a short night trek that we did but it was brilliant; by torchlight we saw snakes, huge spiders (pictured), moths and even 'fished' for scorpions which basically involves enticing them out of trees just long enough to blind them with a thousand camera flashes before they return to the safety of darkness.
We also undertook some less scary but definitely more strenuous walks, which lead us to some beautiful vistas and some murky waters. It was brilliant, but with the only 2 weeks to spend in Malaysia with Sarah we were keen to head on.
And onwards we headed to where strawberries, scones and tea are the order of the day, the weather was cool and the hills rolled in glorious shades of green; no, not England. I am writing from the Cameron Highlands (not to be mistaken for the Cameroon Islands...Sarah)
Here we have been happy to indulge in some cream teas (who needs Wimbledon to be on? So good!) and a great tour of a local tea plantation, strawberry farm, honey farm and a butterfly farm that also offered the opportunity to get close to some over-sized and very well camouflaged insects.
It has been so good having Sarah with us and, scarily, we are already half way through her holiday - but rest assured that there is plenty more fun to be had and we'll be telling you all about it.