This was a week we were very excited about...in a relatively last minute decision and at great Koh Samui vs. Koh Phi Phi debate two of Team 365's very best friends were coming to visit.
Eventually, after much staring at every passing taxi, Miri and Will arrived at our hostel in Koh Samui, a larger island south of Koh Tao. It was amazing to see them; after 6 months of only Skyping when Will was meant to be working, to actually be with them in person was incredible. There were hugs all round before we were told they'd brought us a gift and then Gunit (uni housemate, best friend and favourite favourite) stepped out from behind the waiting cab. Safe to say this trumped the pathetic pack of sweets that had "lets party" written on them which we had bought for the occasion.
Once we had recovered from the surprise (we still haven't really recovered from the joy) of all being together again we got down to the serious business of catching up. I shan't bore you with the details but I must say a massive thank you to those that sent cards, letters, gifts & teabags - I promise to reply soon.
Samui is a much bigger island than Koh Tao and so we were able to move from district-to-district and thus recreate the notion of travelling without having to waste precious days actually getting to another island/province. First we were in Chaweng, which was scarily touristy in parts but offered the best beach and (little did we know), weather-wise, also our best beaching opportunity.
Then the party moved onto Bo Phut, in the north of the island, which was lovely. The waves that we had frolicked in at Chaweng Beach now completely consumed the sand at Bo Phut so we hired motorbikes and after a few false starts (Team 365's first flat tyre!) we explored the whole of the island finding cool waterfalls, crowded markets and plenty of opportunities to try the local cuisine.
Finally we changed location again to Lamai; when we arrived it was raining and it basically proceeded to do so for the entirety of our intended 2 day stay and the unintentional 3rd day that we remained slightly marooned on the island.
We passed our days without electricity or water, which quickly changed from romantic to inconvenient, without knowledge of the full extent of the
flooding in Thailand
, eating lots and playing cards by candle light. Then we found that all the ferry's (Rob and I were booked to travel to Malaysia) had been canceled and flights (Will Miri & Gunit intended to fly to Bangkok) were not leaving either. In fact, W M & G had to go all the way through flooded roads to Samui airport to buy a ticket for the following day...we didn't mind; the rains had just bought us another evening with three of our favourite people.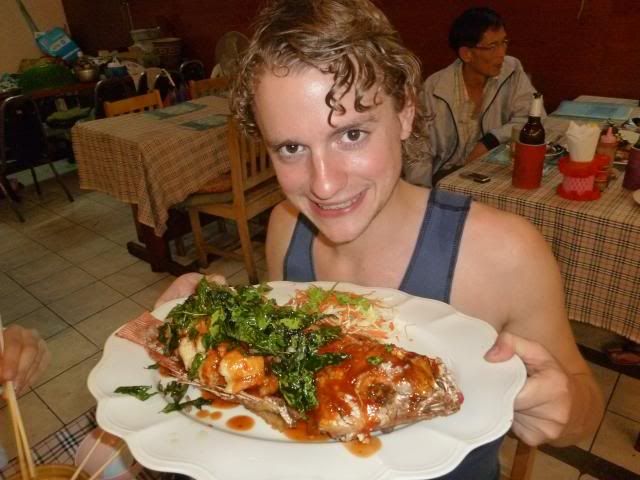 Finally we did depart on our separate paths; W M & G made it to Bangkok (we hope) and we booked a flight to Kuala Lumpur (we didn't see them at the airport so we guess they made it.) Despite the slightly shoddy weather and the absolute lack of tanning (especially disappointing for Miri) we had a marvelous time. After 6 months away it's amazing that when your with such good friends it can really feel like no time at all; it was so good to see you guys, love love xx