From the buzz of Bangkok we departed to tiny Koh Tao; covering about 20 square km it's famous for being one of the best - and cheapest - places to dive in the world. And that is exactly what we were there to do.
As proud holders of the PADI Open Water certificate, the first level of diving qualification, all we needed to do was get a refresher course to swim with the fishes but we weren't going to settle for that. Instead we opted for the next level; the Advanced Open Water certificate which meant five dives over two days including a deep dive (30m below sea level, baby!) and a night dive (here we are wetsuited and ove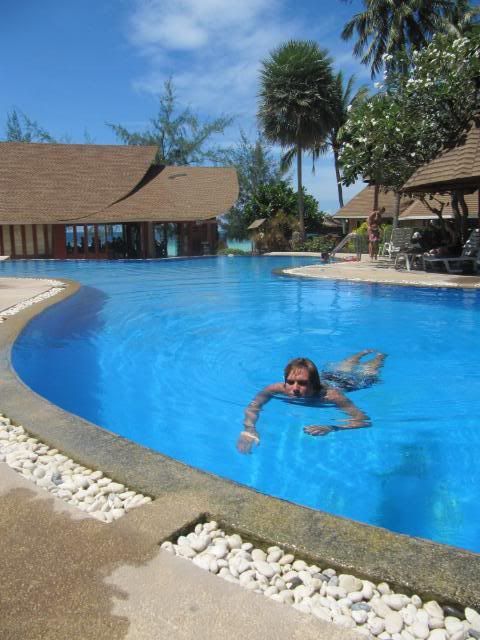 rexcited after the dive, below) as well as necessary navigation, buoyancy and fish identification skills.
We lived and dived with
Coral Grand
; a company that had not only an awesome team of divers but a beautiful pool (pictured) to learn in and a spectacular beach-side location.
The island itself is lovely; small enough to bike around in about half an hour, on the rare occassions that we were not diving, we explored the islands other beaches and snorkelling hot-spots.
But to the diving! Which was just incredible. We were so lucky to enjoy 6 days of clear blue skies and, most of the time, excellent visibility. We swam with beautifully bright fishes of all shapes and sizes and really got into trying to identify them and learn the hilariously-literal hand signs that
are used to communicate under water e.g. angel fish = circle a finger above one's head like a halo, pipe fish = play an invisible pipe. All good fun.
We saw stingrays, hermit crabs and coral of every shape and size that you could imagine and more that you couldn't.
We also - most importantly - SWAM WITH A TURTLE; literally my dream experience. The gorgeous hawksbill turle was happy to swim with us near for a good 15 minutes, it was magical.
All in all we extended our five-dive stay by three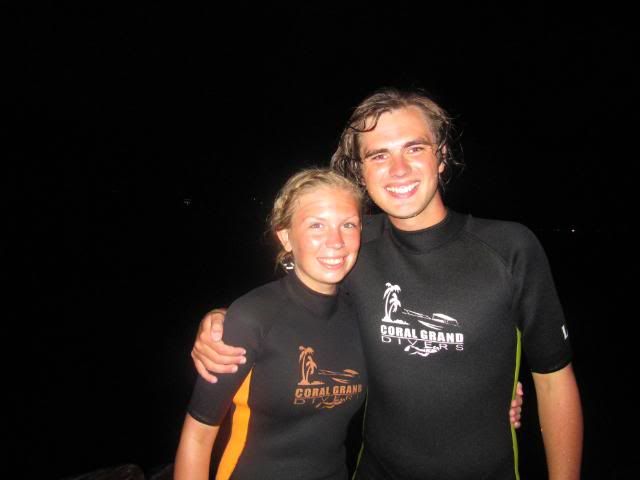 extra days and 4 extra dives; we literally couldn't tear ourselves away and with every dive that passed Rob and I became more and more sure that diving is going to feature heavily not only in this trip, but in the future in general.
The next step in the dive-certification ladder is to become a Dive Master, and after hanging out with the guys at Coral Grand (thanks again Joe, Dave, Phillis, Nad & Co) it's become #1 on our ever-extending To Do list.
Koh Tao; we'll see you again soon.