And then it rained. And rained. No, that's not fair, on the afternoon that we arrived in Taveuni and checked into a little wooden hut at Beverly's Campground the sun was shining and we were soon scraping ourselves over the coral in low-tide. That evening the owner of Beverly's insisted we have dinner with the family...and
then
it rained.
For the best part of 2 days.
Fortunately also staying at Beverly's was a lovely Spinnish [Finnish/Spanish] couple who eased the disappointment of constant wind, heavy rain and no electricity and provided some much-needed direction. They even had a guide book!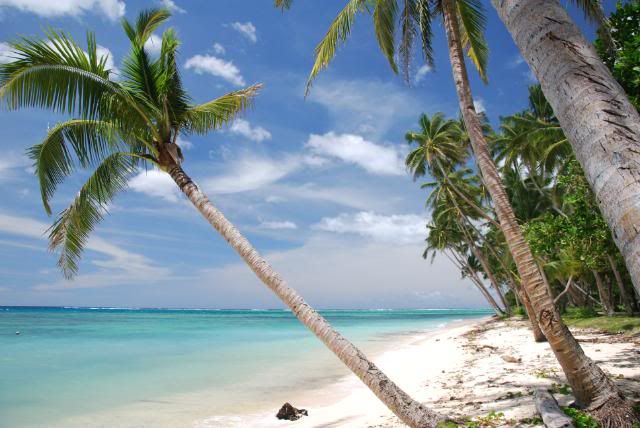 Preparation indeed! And so just as the rain was clearing we jumped on the bus to Lavena.
A note on the buses; before coming to Fiji we'd heard a lot about "Fiji time" an expression that basically means (I think); we'll do it
some
time but there's no telling exactly when and it'll probably be later than you think. A kind of nice, acceptable expression of inevitable lateness. So when our flights arrived bang on time, early even, we figured the aviation industry might be apart from this trend...but then the 10:30 bus arrived at 10:30 and the 2 o'clock return was waiting patiently at 1:50 … what's happened to Fiji time?! It's not going strong on Taveuni I can tell you that much.
Anyway, the bus rumbled through small villages, crossed swollen rivers on very dubious-looking bridges and climbed steep hills through lush greenery and along coastal paths to deposit us, about an hour later, into the little village of Lavena. There is only one guest house in Lavena and – to be honest – if there was another it would have a tough time taking custom from The Lavena Lodge. With turquoise walls, super friendly staff and a breath-taking view out to see the lodge also provides tour-guides and conservation assistance to the local sight-seeing spots.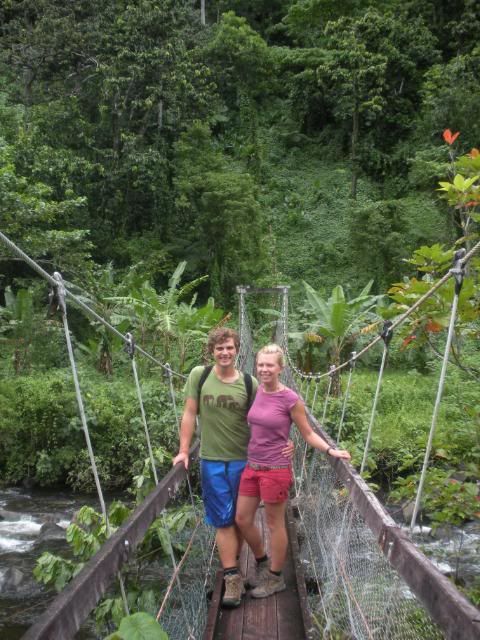 It was here that we learnt of the cyclone that had been bringing all the lousy weather our way – fortunately it was in Tonga and heading away from us so, we were told through a high whooping laugh that it seems is the birthright of Fijian women, that though it was windy "you won't blow away from here!"
Another day of mostly-indoor relaxing with Kimmo and Fatima (the Spinnishes) before Friday morning greeted us with blue skies! There were ominous looking clouds lurking over the mountain but it was time to seize the moment and take the beautiful Lavena Coastal Walk to the Wainibau waterfall. And boy was it worth the wait! The walk there was fantastic but the real highlight was sliding down the fast-flowing waterfall into the whirling plunge pool. It took a bit of a tricky climb up the rocks next to the fall but what a rush!
The rain even held off and allowed us to enjoy the walk home – via a short serenading session by some of the outrageously adorable local kids - and some more snorkelling too.
Such is the way with fate sometimes, that the day we were to leave Lavena the sun came out and lit up the bay in that picture-postcard kind of way that you might expect from Fiji. It was a shame it didn't look like the first pic (above) all the time we were there but it did give us the opportunity to take some great pictures. Actually, because Robs camera died in Suva, we have to say a big
gracias
to Fatima for sharing her snaps with us.