We arrived in Hue like children that had taken a nap for a little too long in the back of the car on the way to a birthday party; tired, groggy but quickly over excited.
With the assistance of two hired bicycles we soon set off into the heat of the day. Passing carefully sculpted gardens and crossing the beautiful Perfume River (no; we're not sure why they call it that either - it wasn't as bad as the sewer-come-canals of India but it didn't exactly smell of roses) and into the towns main attraction; the Citadel.
Originally built by the Nguyen dynasty and now officially a UNESCO heritage site, it bears the wounds of the many wars this country has fought with a pick'n'mix style of architecture alongside a buzzing little community.
To continue with the kids party metaphor, if I may, the highlight of our visit was the pass-the-parcel style citadel, within a citadel, within a citadel. Walled spaces that once played host to temples and the various emperors' every whims now, sadly, can be seen crumbling and, as one progresses to the very centre, to the fantastically named
Forbidden Purple City
, only the rubble of the foundations remain.
We spent the whole day exploring the tiny winding streets, circling huge lillypad-covered ponds and rumbling over the cobbled stones that surround the zig-zag moat.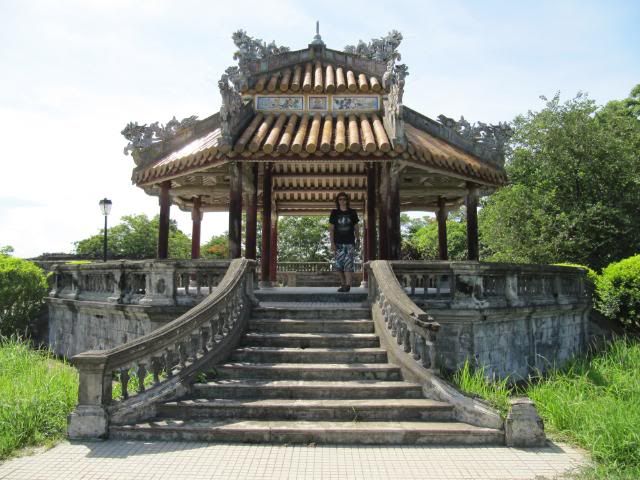 When we got back to the hotel and showered it became apparent that the sun had given Rob the perfect outline of his t-shirt on his skin - a departing gift, a party bag if you will.
All we needed was jelly and icecream; we settled for a few too many cold beers with some new friends we'd made. Absolute bliss.