There was a time in my life when I would have argued that a beach without sand was not a proper beach. Croatia changed this pebble prejudice.
Equally so, there would have been a time when I would have argued that the sea was enough water on a beach. Mandrem and Arambol have now changed this too.
After a few days of beautiful sunsets, amazing food (I found humus and Rob's bid at vegetarianism was well and truely demolished by the local speciality: sea food) and, disappointingly,"nights out" that were closed down and the music switched off at 10:30pm in Anjuna. Team 365 decided to hire a bike and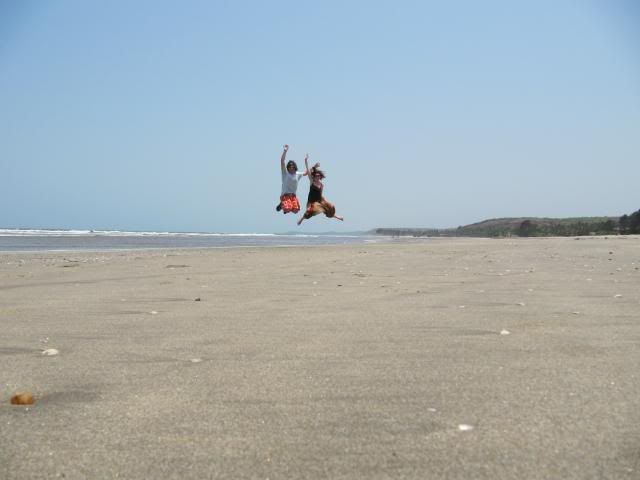 explore further north in Goa. Yes, I said bike, one with a motor.
Now followers of 2005's
Chronicles of Australia
will know that those with two wheels and an engine have not always been a friend of mine, but this time I had brought my diver, sorry, I mean boyfriend.
So with Rob firmly at the reigns and a speedometer fixed firmly at zero (this didn't change throughout the day despite some definite acceleration) we headed off early on our scooter.
Mandrem beach, of the whitest sands and leaning palm trees, lies between the sea on one side and a gently flowing river on the other that we were lucky enough to have had almost to ourselves.
We paddled in the shallows - of the river and the sea - where one began and the other stopped was fantastically difficult to tell, before getting back on the scooter - this time with me driving - to further our adventure.
And, let us be honest, I was never going to come off a bike compleletely unscathed. But in a moment of small road meets large truck and the emergency stop that followed I feel pretty pleased with only having lost the skin from the top of my big toe.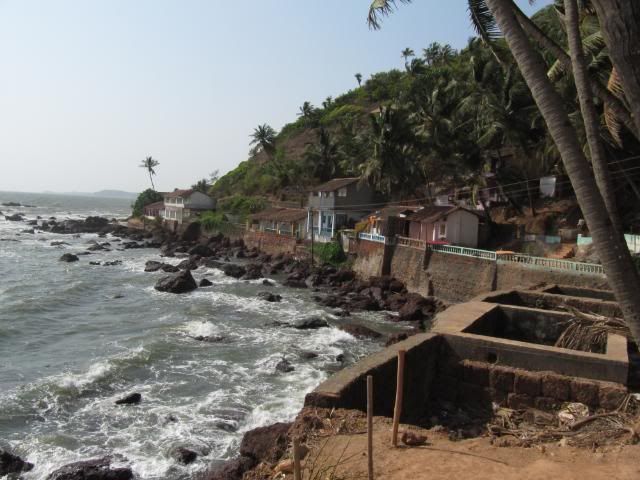 Anyway. Onwards and upwards. Literally. Arambol was a much more lively town and we were advised to head round the cliffs to a "sweet water lake" - and sweet it was.
Who would have thought that a lake on a beach was a good idea? Certainly not us, but converted we are and so after a refreshing - and disctintly not salty dip - we paused for a moments reflection on what a beautiful place we were and how lucky we were to be on this trip.
Before the sun set we rode over hills and along rivers through winding roads home to
Peace Lands,
our lovely hotel, before realising we had lost our room key and a man had to literally saw off the padlock so we could enter. That's karma for you.
All in all - our best day yet. (quick check with Rob that it was fair to say....yes, "agreed")